Welcome to aboutyorkies.com
My name is Melanie and I hope you are enjoying my site. It is the first one I have ever attempted building and I'm hoping that there will be many more!
One day I was 'surfing' the net looking for information on Yorkshire Terriers and although there was quite a lot I wasn't convinced that there was a site that could provide me with all I needed to know.
My boyfriend at the time of the sites conception, James, has two dogs, a Yorkie called Harry and a black labrador called Tasha. He's been around dogs for most of his life and you could say he's a bit of a 'know-it-all' so I asked him about doing a site with me. After some gentle persuasion he agreed and we began work on this site.
We started to research as much as we could and once we were satisfied with our initial content we got the site online.
The two of us used to work, however we have now handed in our resignations to work solely on our websites. Everyday we try and get something done so that those who return to our site see an improvement everytime.
Since we got it online we have both learnt so much more about Yorkshire Terriers, they are sooo much fun and so loveable it's unbelievable. James' dog Harry has become our inspiration for the site.
Harry had previous owners and wasn't wanted anymore so James' parent's jumped in and brought him home. He's really cute and has a very funny personality, he just wants to be cuddled and kissed all day long! Oh, here's a picture of Harry for you.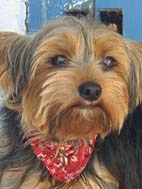 Isn't he cute!
We find ourselves looking at all the Yorkies being walked around the streets and thinking about the site and what we can do to improve it.
We are very happy with the way the site is progressing and with the amount of information we have up to now.
Take a look at our back issues of our Newsletter and sign up for it. In this way you will be kept up to date.
For those of you who have any questions for us please fill out the form below and we will be in touch as soon as possible, afterall we want to meet Yorkie lovers from all over the world!
If any of you want to learn how we built this website see our SBI! Journey page.
All the best,
Melanie and James…. and Harry of course!