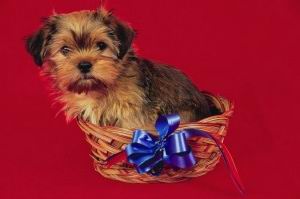 The most complete guide for Yorkie lovers. Everything from Pictures of Yorkshire Terriers to how to housebreak, train, and groom them.
But that's not all, we also search their past, look at their eating habits and investigate the best ways to travel with your favourite pet, your Yorkie.
As a special offer to our readers, we have created a printable 2 page yorkie puppy Growth and Development Chart.
We have also added in a blank column to the chart so that you can record your yorkies growth.
To receive your growth chart simply sign up for our newsletter using the box on the right of this page. You will be emailed a link to where you can download it. The chart is in .pdf format, so you will need Adobe Reader to view it.
Displaying our love for Yorkshire Terriers we are confident that we can provide you with all the information you will need to be a successful owner! Yorkies bring joy to their owners.
They love to be loved! Our bubbly little friends are very interesting and here you can find out everything about them.
This breed originated in England but since then they have traveled the globe and are now an integral part of families all over the world.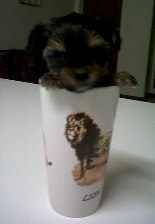 Although they were bred for hunting it is hard to imagine them doing anything other than playing and enjoying life. Yorkies are a bundle of fun and if looked after properly will provide you with years of joy and companionship.
A good pedigree is capable of living for up to fifteen years and it is not surprising for someone to have two of them, after all they are cute! And looking so cute…you might want to take a look at our yorkie apparel to keep them warm or even all the lovely yorkie gifts!
They love to go everywhere you go and if they can't they snuggle up to something that reminds them of you. Have no doubt that your Yorkie loves you as much as you love them.
During the many years that you enjoy with your Yorkie you must remember that the most important thing is that you learn how to look after him/her. By doing this you are virtually ensuring that they live a long and healthy life.
The aim of this site is to provide you with the right tools to do just that!
We are holding a little contest! We are looking for the best Yorkie puppy story in exchange for a little prize. A bonus report of your choice!