We challenge you to take a great yorkshire terrier picture! View these pictures below and then send in your own.
This is a picture of our very own cowboy Harry. Isn't he cute?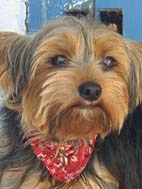 ---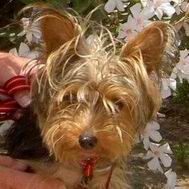 This is Pelusa one of Harry's friends. If you would like your yorkie to become one of Harry's friends please contact us.
---
Now this is Biscuit. If you ask me he looks a bit cold in all that snow! Maybe someone could buy him something to wear for the cold from our Yorkie clothes pages!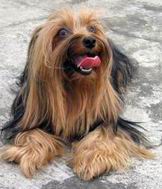 ---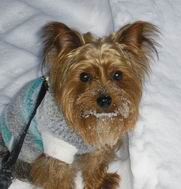 The latest yorkshire terrier picture – this is Odie. As you can see he is also in the snow, but won't be as cold, check out the cute jumper he is wearing!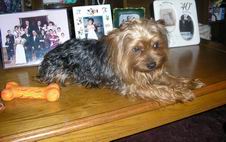 Odie again. But on a coffee table this time with his favorite toy beside him.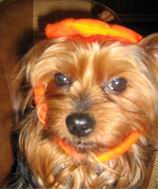 Odie is sporting a pumpkin hat in this picture. Isn't he great!
---
Everybody, meet Tinkerbell! She is just 11 weeks old. Her owner says she is a bundle of joy and gives them lots of kisses and cuddles and is just growing every week. We can't wait to spend Christmas with our gorgeous tinkerbell!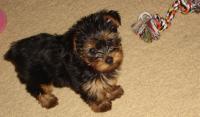 ---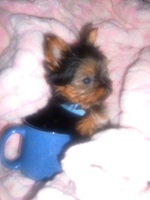 Check out this cutie we've just had sent in! Her name is Bella. She is 10 weeks old and her owner says she has the greatest personality. She is their precious girl!
---
Check out this cute latest addition! He's just 10 weeks old and as his owner says a little sweetheart! His name is Rocky Balboa!
---

Hey all! Check out Tater. She is just 7 weeks old and her owner says she 'is a bundle of energy and is rarely still long enough to have a picture taken! She loves getting dressed up.'
---
Everybody meet Kacha! She was bought when her owners were stationed in Germany, and I must agree with her owners when they say that she is quite the cutie-pie! She has travelled to lots of places and has added a lot of enjoyment to their lives. We are also told that her favorite place so far is Paris – she loves those outdoor cafes!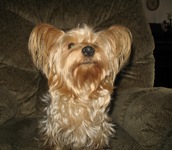 ---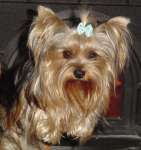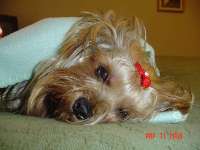 This is Ginger. She loves to be loved. She is quite spoiled!
---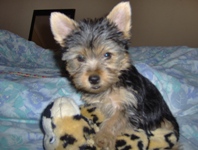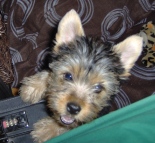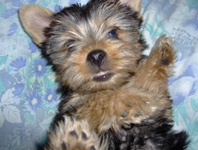 I would like to introduce Zoe Bothma. Her owner says: "She is my 12 week old, angel-face Yorkie. She is extremely energetic and playful! She is the love of my life and the centre of my universe!"
---
This little girl is nine weeks old and her name is Emma Jean. Her owner says that she just got her a couple of days ago, and she won't leave her side…she is the best thing to ever happen to her.
---
This is Baby Jake, it was just recently his birthday, a year old on May 6, 2007. He is the sweetest little thing ever! He weighs a whopping 5 1/2 lbs. He can't bark, but he doesn't let that slow him down. He loves to chase birds and squirrels and hopes to catch one someday.
He loves to play with any animal that will play back, especially cats! His two favorite cats are his cousins Meow Meow and Charlie. He loves to meet new people and he loves giving kisses! In the picture you can see his favorite toy, the pig. He loves his pig! He will shake the pig so hard that it will fly across the room. He has gone through a lot of them, as you can see he has more than one…six actually. He is a sweet little baby and is spoiled rotten by his mommy!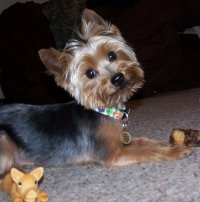 ---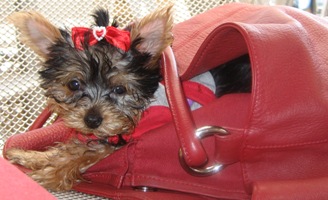 Everyone Please welcome Chloe! This new pup is 11 weeks old! Chloe is a energetic pup with a vibrant loving and sincere personality. She likes to run really fast, hop on her owners bed, and give kisses!!! She's friendly to all she meets! Yea for Chloe!!!
---
This is Teddy at 7 years old running down the beach in NC. He's a sweetie and a troublemaker (like most terriers). He's 14 now but still up and running!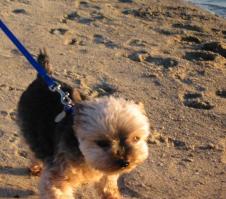 ---

This is Bodhi which means enlightened in Sanskrit and he's a 4 month old teacup yorkie – poo from Texas!
Weighing in at about 2 pounds, he will reach about 3.5 pounds at maturity! His owner tells us that everyone who sees him, wants one!
---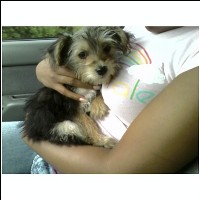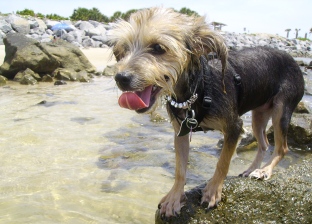 RoXie-MaRie is a preppy pup who is very energetic and full of love. She loves her belly rubbed and to lay out by the pool in the florida sun!! RoXie is 17 weeks old and lovin' the "doggie" life!!
---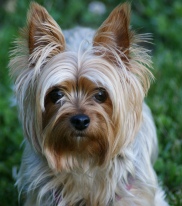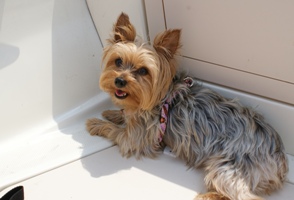 This is Smooch, and he is 2 and a half years old.
The first pic is Smooch on a Boat Ride and second is Smooch just being Smooch!
---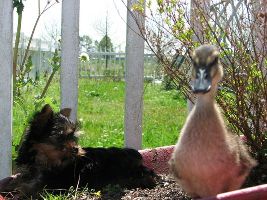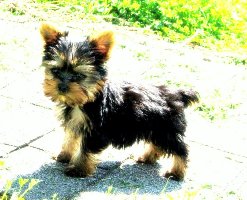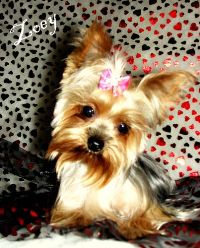 Meet our latest addition to the site Zoey. Isn't she cute?!
One is Zoey when she was little with her friend duck, "Cracker".
Another one is her Valentines Day picture.
And another one is Zoey just being Zoey.
She was a year old on January 3, 2009.  She weighs a HUGE 3.4 lbs.  She is a tiny girl.  She loves to get dressed up and to be brushed!! She also likes to play outside and get dirty (she thinks she is a farm dog).  She runs in the pasture with the cows lol.  And she also likes to sleep with her Momma and Daddy in the bed!  But Mom has to help her up because the bed is too tall.  She likes to go on trips,  I could go on and on about her. Zoey is just an all around wonderful girl!! I couldn't have picked a better puppy!!
---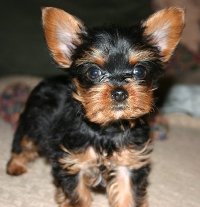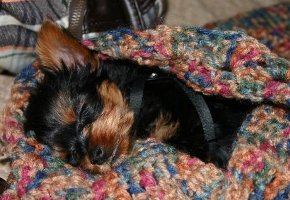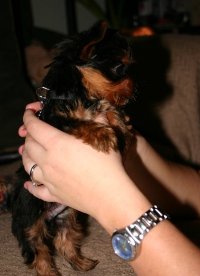 We got our little Romeo a week ago and he is the sweetest little guy ever!! He is 8 weeks old and weighs only 1.3 lbs right now! His mommy weighed 5lbs and his daddy was only 3lbs! He's potty trained, very affectionate and sooo cute!! never whimpers when we put him in his kennel but when he does whimper around 7am to go potty, we open the door to his kennel…let him do his business and then put him in bed with us. When he's with us in bed, he gives us lots of kisses and snuggles with us!! It is adorable and he's got a lot of personality for being such a tiny guy!! We love our Romeo!
---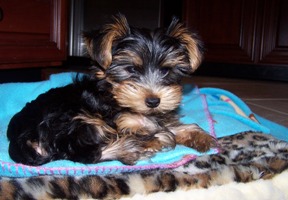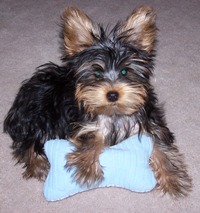 This is DJ. DJ will be 5 months old on March 6th. He is the cutest, most lovable puppy ever! DJ loves to play and run and has added so much joy to our lives.
---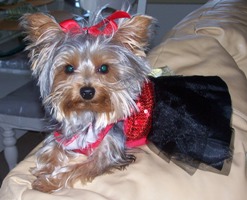 This is "Miley" and she is the love of our lives! She is a year old and weighs 5 pounds. She is always happy to see us come home and she brings so much joy into our lives.  We are so happy we have her to love!
---
Sofie is one of the best things to happen to me. She came along into my life when I was in a dark place & she brought the light with her. She is never far from me when I am home and she makes me smile just thinking about her. She is very affectionate and ALWAYS has kisses for her Mom or anyone else that sits still long enough! Sofie will be 3 on March 13'09.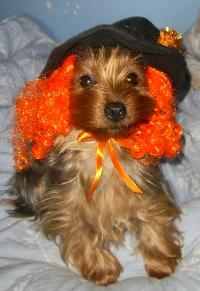 This is my little Sofie witch on Halloween!
This was taken right after her very first grooming by a photographer in the same building.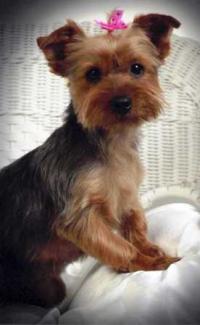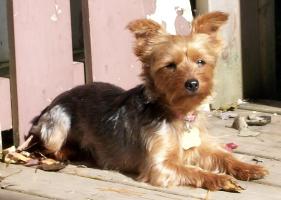 This my Sofie on the deck enjoying the sun this past summer.
---
Hi all, this is Pixie and she is 3 months old……Loving ,energetic, curious and the love of my life. She come to work with me every day and loves the car.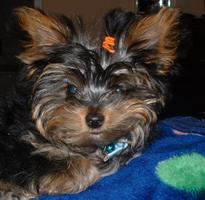 ---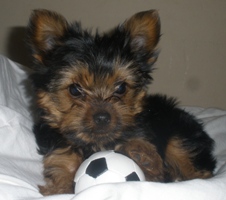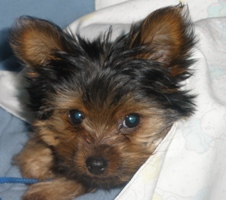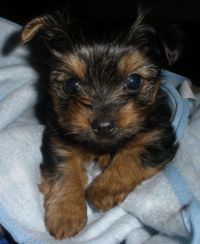 Hey guys, this is Toby, he is really cute and only weighs 2.4 pounds, and he is 3 months old.  Here are a few pictures of Toby.
---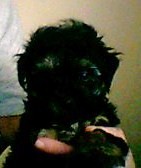 Hi and please welcome our latest addition to the yorkie gallery, Bear. Isn't he cute!
He was a present because his mum was rescued and returned to the owner, then when she had pups, one was given as a thank you to the family.
Isn't that great!
---
Here is 10 week old LouLou. Her owner tells us that she is the size of a guinea pig & she is loved to bits!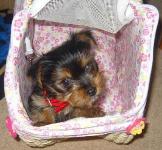 ---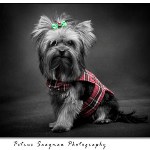 Hi everyone, this is Mya and is fully grown at 8months. Her owner says she is very spoilt, but asks who won't spoil that cute little face? 🙂
---
Would you like to send in your yorkshire terrier pictures?
It would be a great idea to display your photos in your own home. Check out these great yorkshire terrier picture frames