by Angele Cote
(Gibsons BC Canada)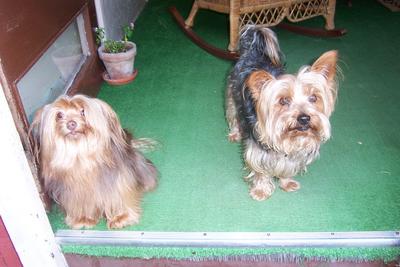 Millie & Kobe
In December 2003, my husband just had heart open surgery at 90 years of age and he was recovering at home. At the same time we had lost our little dog (14 years of age) a rescue from the Vancouver SPCA.
I was thinking of adopting a cat as a Christmas gift for myself when I went to our local SPCA. After hearing of my loss they suggested that I visit a little Yorkie rescue from a puppy mill.
She was in a foster home and as luck will have it I knew the people who were taking care of her.
I told my husband and we just fell in love when we saw her.
She was a little adult female who had her share of hardship having been bred heavily, her belly was all streched and she had very few teeth left in her mouth.
She is our precious little Millie for 4 years in December and she is the sweetest and most beautiful dog you can imagine.
In August 06, we adopted another Yorkie from the shelter, a little male Kobe who was abandoned at age 6, he is gorgeous as well and gets along very well with Millie.
We have been blessed. My husband is still alive, 94 now and he is so happy with our little companions.