by Beverley
(u.k.)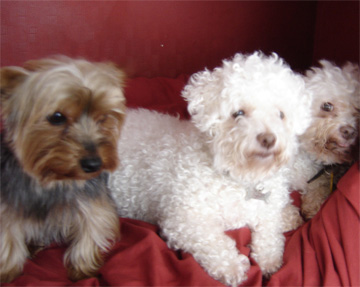 Barney with the two old bichons
My little Barney was the most precious dog i have ever had and I have had a few different dogs labradors, shitzus and bichons.
But my little yorkie stole my heart, he touched my soul and he has spoiled me for any other dog.
He was bought from a breeder which I thought was reliable but wasnt at 6 months he got parthes disease and had to have 2 major hip operations.
After this he started suffereing with his stomach he had helicabacter in his gut when he was 5 years old I had to put him to sleep as he was suffereing so much with his stomach and the vet could do no more for him.
This broke my heart I still am not over him we got another bichon to be a friend to our 2 year old shitzu and 16 year old bichon but sadly just before christmas we lost our old bichon her liver failed her. So 2009 was not a good year now we have 2 dogs instead of three and there is something missing and i know it is the attitude of the yorkie.
They are so interested in you and what you are doing you would never be lonely with a yorkie.
Barney was a little ASBO though, he was terrrible to take out but yet he was such a loveable ball of fluff at home he would cuddle in and want to be near you.
He did suffer from anxiety if you left him but otherwise he was ok. I still loved him to bits with all his problems.
But anyone who has lost or may loose their beloved pet it isnt easy but it does get easy with time as you have the good memories and I have lots of them even though we only had him 5 years.
I thank God for his life he may have only been here a short while but the unconditional love he give to all of us is something money cant buy. He will live on in our hearts always.
Thank you for reading his story.