by Shelly
(Liverpool)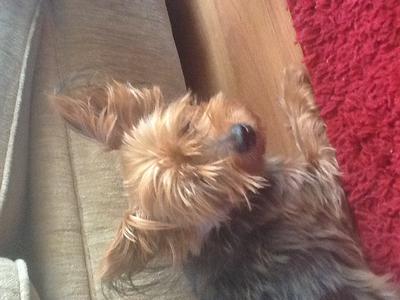 Holly
I lost my beloved best friend holly on the 12/7/14 at 3.30pm the vet said give it two weeks an you will feel better!!!!
She obviously didn't understand the love we shared we were best friends my fur baby ( I don't have children )she was mine an all I needed. I understand some people might think that sad but that's me.
I came home from work one night an she rushed downstairs to greet me as normal for her nightly sweetie.
As I gave it to her she rushed up the stairs with it as usual. As she got near the top she fell. She was 14 yrs old but quiet active. I rushed downstairs and cuddled her she seemed ok.
The next evening I took her for her nightly walk and she collapsed. I rushed her straight to the vets who confirmed my baby had a heart murmer an would be on tablets for the rest of her life.
At 1st she was great taking her med an I put baby gates on the stairs. Within weeks she seemed depressed, wasn't eating just drinking a lot.
I took her to several vets who all confirmed the same diagnoses my baby had kidney failure.
It all happened so quick! The vet told me it was time for us to say goodbye, but she would give us sum time.
I took her home were she belongs and lay there all night with her.
She poo pood herself and was crying so I took her back the vet the following day to be told her kidney count had gone from 18 to 45 my baby was dying……
I chose to end her life cause I didn't want her to suffer no more. She was very disoriented and kept taking herself off in unusual places in the garden she would normally never venture to go.
Before she passed she kissed all of my face but unfortunately I couldn't bring myself to be with her.
I asked the vet to take her away and then bring her back to me when she had passed for a final cuddle.
I feel guilt I should of stayed with her to the very end not strangers. She must of felt scared wondering were mummy was in her final minutes.
Am heartbroken I wasn't there holding her I just couldn't do it. Every time I think about it constantly in bed of night I get pins and needled feeling in both hands.
People just don't understand how much she meant to me. I know I couldn't keep her forever and I was lucky to have 14wonderful yrs with her.
She was my best friend the house was so quiet without my baby I got a puppy same breed she's adorable but I just don't feel the same am heartbroken.