by Christine Holt
(Marietta, GA, USA)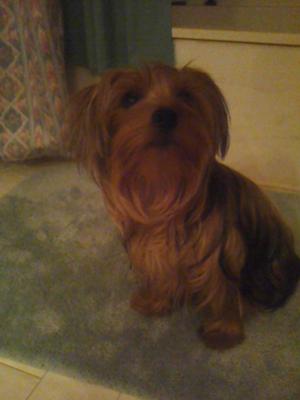 Li'lB doing "stop" (sit/stay) on command!
We got Li'lB from a breeder in Palmetto, GA when she was just 5 months old.
We chose her from several litters of several puppies each when she was just under 4 months old because she was the only puppy that responded to us with lots of kisses.
All the others wanted to play with each other, but Li'lB wanted right away to be cuddled and give kisses from the get-go.
I took her for puppy training and she was the best in the puppy class, beginner's class and intermediate class, and the ONLY dog to make it into the advanced class when half way through, I broke my leg and we had to suspend training for awhile.
The bad news is, our beloved Li'lB passed away last Saturday night for no apparent reason. I had been playing my harp at church for the prelude before the Vigil Mass and when I came home, Li'l B was in the dining room window waiting for us as always.
She was so happy to see us and as usual, jumped up into my arms and gave me lots of Yorkie kisses. When she was satisfied she had enough attention, she wanted down and again as usual, she ran into the dining room where she usually has a toy or two under the table.
I headed upstairs to change out of my gown and she usually would have followed with her toy of choice for some play while I changed clothes, but this time she didn't.
I called to her and she didn't respond, and by the time I got to the top of the stairs and called her a second time, she still hadn't responded.
My husband, who had been in the kitchen, yelled out to me to come back downstairs because he had just found Li'lB under the dining room table, simply lying stretched out on her side, dead.
After inspecting her for possible causes, there was nothing to be found, i.e. nothing choking her (we even tried to resuscitate her but to no avail), nothing causing her to writhe in pain that we could tell from her final resting position; she simply rolled over onto her side and died.
We buried her in the backyard on Easter Sunday in the early evening and are all still quite devastated.
Li'lB was in perfect health and quite contented and well cared for by everyone in the household.
Li'lB was almost finished with her final course of obedience training and almost ready to take her test to become a therapy dog when I broke my leg just before Thanksgiving and we had to postpone the final portion of her training.
We were scheduled to resume in 2 weeks after spring break, but now that won't happen. I'm really sad about that, too.
There are so many people who could have benefited from her sweet little Yorkie kisses!!!!
Please check out my website angelairs.com for the therapy dog page featuring pictures of Li'lB as a puppy.
Attached is Li'lB doing "stop" (sit/stay) on command.
Her graduation photo from puppy obedience is on my website as well as her peering in at some goats at a rest stop on the way to vacation this past summer on St. Simon's Island.
She loved the beach and even learned to boogie board in the calm waves!
She welcomed each and every one of my private students as they came in for their lessons, curled up on her special pillow while they sang or played, and gave them kisses goodbye at the end!!!
So many wonderful memories! The hole in our hearts is quite huge for such a little girl.
Our lives are quite empty without our little girl and our hearts are quite broken.
Much love & God bless,
Christine Holt
angelairs.com