by Vicki
(Oklahoma)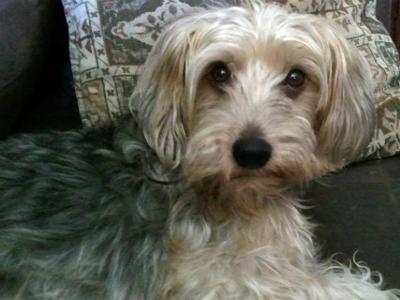 Hello. We found Max as a stray back in May, 2011.
We tried very hard to locate his owner with no success. We placed ads, hung posters, scanned for a microchip, contacted local vets and rescues but no one came forward to claim him so he became our newest family member. Our vet guessed his age at around 14 months.
He had very poor house manners when he came to us. So, we have been working on getting those in order. He is a very well socialized pup and seems to love everyone he meets.
He does have resource guarding of food and toys, to us as well as our other dog. We are working on that as well.
He was also horribly matted when we found him so after a bath and a shave down his hair is getting nice and long again.
He is also bigger than most of the Schorkies I have researched on the internet coming in at about 25 lbs of solid muscle.
Enough about his shortcomings, here are some of the reasons that we fell in love with him and decided to keep him.
He is a very funny little dog and hops around like a ping pong ball. He loves to bury his head in your lap, under your arm, behind you on the couch or anywhere else he can squeeze into.
He loves to be held, give you kisses and get belly rubs in return. He will play ball with you but getting him to bring it back is a bit of a challenge at times.
He seems to love all people, young and old, other dogs and even our cat. She is kind of old and cranky but has accepted him and gives him head rubs in return.
We have no experience with either yorkies or schnauzers so it has been much of a learning process for us.
Our other dog is a Cocker Spaniel and we have had Boston Terriers. Max reminds me a lot of our boston terriers as far as personality. Quick to learn but can be very stubborn during training.
He is not a shedder, has the boxier shaped head of the schnauzer but with longer silkier hair on his head like the yorkie. His back is silvering and that hair is very soft but still a bit wirier than the blond hair. He has very coarse whiskers.
He also loves to take his toys out into the yard and bury them in leaves. He will chase rabbits, birds and squirrels when he sees them in the yard. His hunting instincts are very predominant.
He is a joy to be around and we feel very lucky to have him in our lives.