by JONI McCLAREN
(GRISWLD, CONN. USA)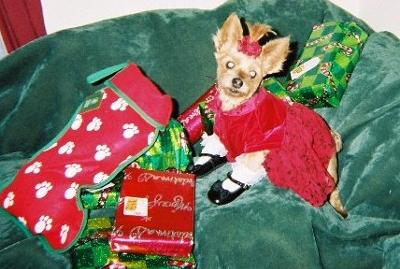 MY LAST CHRISTMAS IN CONNECTICUT
SQUIRT WAS MY 2ND DAUGHTER SHE LIVED A FULL AND HAPPY LIFE OF THIRTEEN YEARS I MISS HER SO MUCH.
SHE RAISED OUR 6 AND 7 WEEK OLD CHEWJAX TILL SHE DIED FOR ABOUT 1 1/2 YEARS.
SHE WAS OUR SHOW STOPPER SHE LOVED TO GO EVERY WHERE WE WENT AND SHE WAS ALWAYS DRESSED FOR ALL OCCASIONS.
SHE WAS VERY HAPPY AND PLAYFUL TILL SHE WENT BLIND.
I HAVE A SHRINE FOR HER HERE AT HOME AND SHE REMAINS IN MY HEART. I WISH HER BACK TO ME EVERY DAY.
MY HEART WILL ALWAYS BE BROKE UNTIL I AM WITH HER AGAIN.
I HAVE HER URN HERE WITH ME AND SHE WILL BE BURIED WITH ME TO BE TOGETHER AGAIN.