Here are more pictures of yorkshire terriers….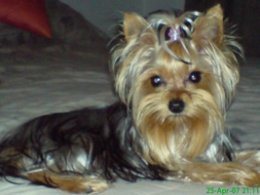 Hey guys, this is Topaz & she is a year old. Her owner says she is the quietest yorkie in the world…
---
This is Holly "the squinter" Ainsworth. Her owners say 'she is a little darling, she was about 1yr old in the picture. She loves to play ball "ALL DAY!!" and when its hot we fill up her pool and she jumps in and has a whale of a time. she is spoilt rotten and thats the way it should be!!!!!'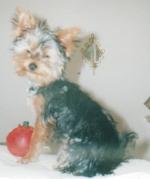 ---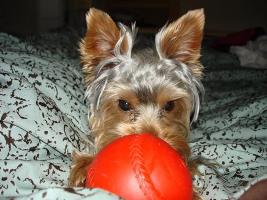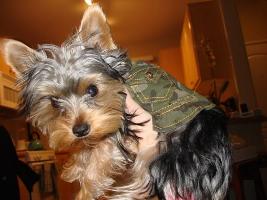 This is Bella, she has just been one year on October 14th!
Her owner, Giselle, got her through a family friend…a breeder in idaho.
Giselle says 'Every since the moment I first laid eyes on her, my life changed. Not a day goes by where I wonder what it would be like without her.
Every time I walk in the door she jumps in circles, and gets so excited! This just makes me feel so great!
She is the funniest little thing.. her and her entire 3 and a half pounds can do the craziest things!
We have a ramp for her to go up and down our bed, and while making the bed one day and having the ramp up, she decided that she could run and jump onto my at least four foot tall bed! How is this possible? I am not sure…she must have a set of wings I am unaware of :).
She has more energy than I have ever seen, and is so atheltic for how tiny she is.
Her favorite things are cold strawberries, her red squeeky ball, a TY Beanie Babies dog (that's the same size as her), and sleeping under the covers.'
---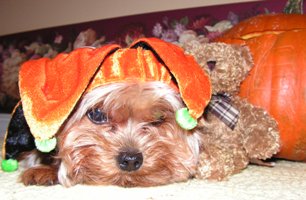 Here is Zoe Isabella! She is 5 years old and loved by her whole family in Indiana.
---
This is Oakley, a 3 month old "baby boy". His owner tells us 'He is spoiled rotten by me, my husband and all our kids (all 5 of them)! Here he is playing with his duck (his favorite toy) – he wants to learn to hunt so he can go with the big boys at our house!'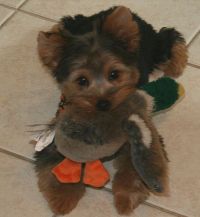 ---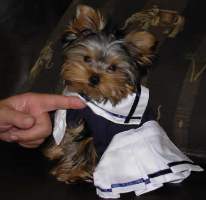 My name is Jada. My Mommy received me for a present after she lost her other baby girl to a tragic death. I know I was meant to be with my Mommy because I make her happy all the time. She takes me with her when she goes out, and I get a lot of attention from strangers. Everyone wants to take me home with them. I would never leave my Mommy because I have unconditional love for her. I feel like a star too. Can I be a friend to Harry? Thank you for adding me to the gallery 🙂
---
This is Erricos from Athens Greece. He is a little over two years old. He is unbelievably sweet and his owners absolutely adore him. Here, he is participating in a bike march in the center of Athens calling for the construction of bicycle lanes in the city.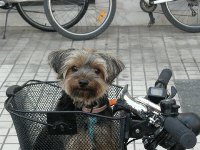 ---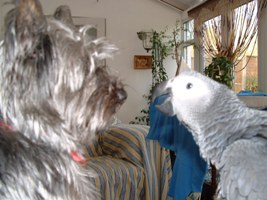 This is a beautiful yorkie called Meg. She is 7yrs old and this is her little mate alfie the parrot! She loves running around the field and we are told that she will soon have someone to run around with. She is getting a little yorkie brother or sister at the end of the month!
---
Everybody meet this sweet little yorkie Vince!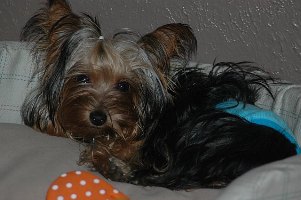 ---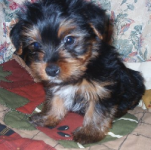 This is little Gracie. She is 7 weeks old and the joy of her owners life.
---
This is Buffy. She likes travelling in the car and chasing ducks at the local park.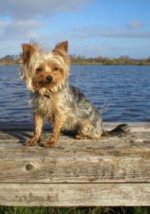 ---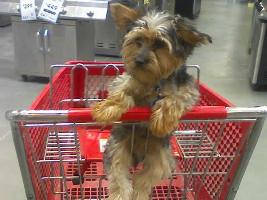 This is 9 month old Gizmo enjoying a shopping trip. He really loves being out and about!
Here is Gizmo again, with their niece Audrey. Isn't he a lover boy!!!!!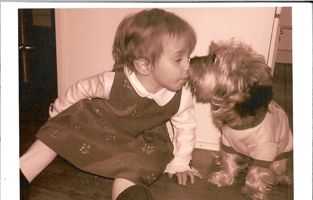 ---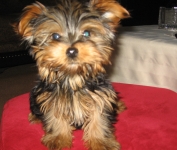 Hey all, meet Lulu. She is a 6 month old yorkie. You will see here her before and after, before bath and after bath 🙂
---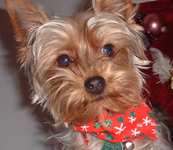 Meet Rowdy everyone, this is what his owner had to say 'Here is my little gentleman, Rowdy. He is a year old and weighs 3.5 pounds. He came into our life on May 20, 2007. This has been a wonderful year. Rowdy makes everything so much better.'
---
This is a yorkie poo called Miss Coco Chanel and she is two months in this picture. Miss Coco is truly a diva but a lovable diva. Her family say 'We love her very much especially her two brother's Nigel my son and Rocky our pit bull, they get along very well. We are extremely happy to have her be apart of our extended family.'
---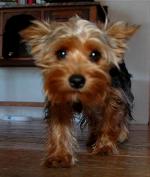 This photograph is of Sofia…the Napa, California Yorkie owned by Marissa, Lorenzo and Liv….a co-adoption. In the photo, she has that "I know I did it, I am sorry, I won't do it again…truly…."; Her owners say 'Heretofore, we had been big dog snobs, Great Dane's only, but since Sofia, our world of small things has opened up…she is so adorable and a new family favorite.'
---
This is a picture of, Gizmo and Riley. Gizmo is on the left, she is 7 years old, and Riley is the puppy, he is only 8 weeks old in this picture.
Her owner says 'They are my babies 🙂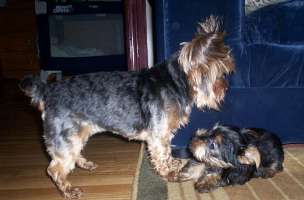 ---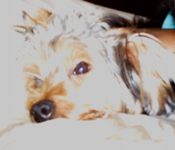 This is what Kimo's owner has to say about him,
'Kimo is my lovely 2 year old yorkshire terrier.He is a very affectionate puppy who loves attention.If you met him, he would get attached to you with no time to spare.He is black and brown and can sometimes be lazy.He loves his afternoon naps and wishes not to be bothered with at that time.We received Kimo from Pauley's Pups as a newborn and from there he has came into our lives as one of us now.'
---
We are told the following…'This is my Yorkie, Dolce.  She has a Golden Retriever for a brother and she wrestles with him all the time and usually wins.  She's 2 years old and a bundle of energy!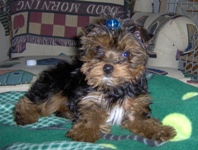 ---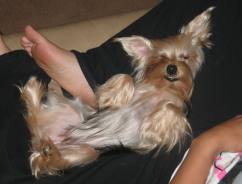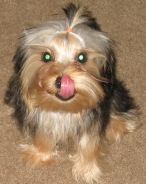 This is Dyna (Dynasty Rain Turley), she is a baby.  She is 8 months old and very energetic.
---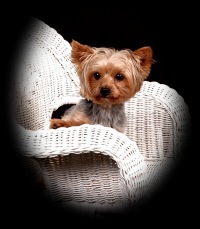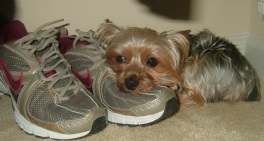 This is Toffey Hall.  He is a 3 year-old teacup yorkie.  He weighs 4.2 lbs.  He is a very happy and loving dog.  Toffey is well behaved and well mannered.  However, he does get a little dominate from time to time and pees where he's not supposed to.  He is currently going through evaluations to be a pet therapy dog.  Once he has been certified we will be visiting children's hospitals in Charleston, SC.
---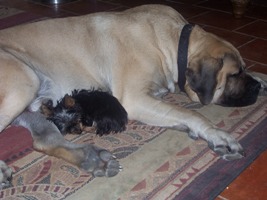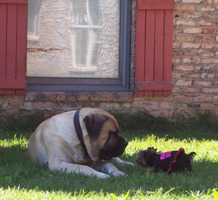 Minor is a 2.5 pound Yorkie and Major his live in brother is 3 year old 239 pound English Mastiff. They do everything together, and are best buddies. We also share our home with Phoebe a female Yorkie and Sadie a female Mastiff. Love and size just don't matter with my guys they are all just one happy family that shares everything together and are inseparable. People always comment when coming to our home "why don't your Yorkies bark like others that seem so "yappy"? My only explanation is …."They must think they are Mastiffs!
---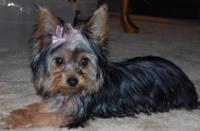 Ooboo just turned 1 year old on June 12. She is 4 pounds and just the cutest baby ever. She is such a joy, always happy. She loves to play with her Bichon sisters all day and sit on my lap while I read or watch TV in the evening.
---
I'm a five year old Yorkie from Jayuya, Puerto Rico. I'm very hyperactive, curious and love to chase and bark at everything. One time I attacked a frog, got intoxicated and nearly died. But my family loves me and paid one month's rent in medical bills to save me.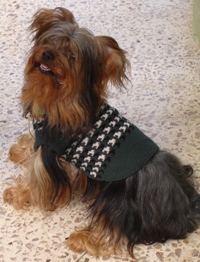 ---
Return from Pictures of Yorkshire Terriers to our Yorkshire Terriers Homepage