by Teresa
(Brooklyn ny)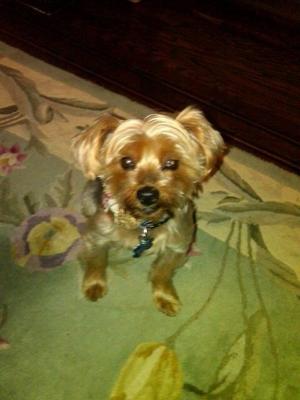 Today is the saddest day. My 18 year old rescue Tyler passed away. I adopted him in 2006 as a 22 year old girl.
We took on NYC , moved several times in hope of finding a real long term home and career for me.
He took everything like a champ even the first week when I had him on multiple modes of transportation ( car bus nyc subway) he knew as long as he was with me we'd be safe.
He kissed my tears in times of sadness he snuggled with me just because. We fell in love with my boyfriend who became co parent five years ago.
He picked out another rescue pup who we adopted 2 weeks ago as a companion. That day so many people wanted to adopt him!
I said hes 18 and hes mine! little did we know he knew that it was time and I have enough support , now a new puppy and friends here to deal with his departure from my life.
He's my hero, my best friend, my willing co- pioneer in this ny life.
I thank god everyday that the stars aligned for us to find each other and the privilege to be his mommy in the second half of his life.