by Donna
(Illinois)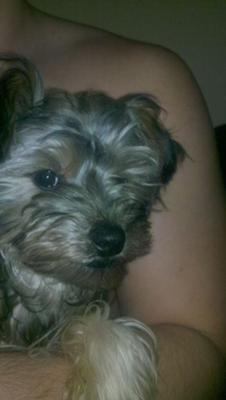 I love my snorkie Frisco soooo much! When I got him he was the runt of his litter which his mother was having a hard time taking care of.
He was bottle fed for 2 weeks. I wasn't sure he was going to make it because he was so tiny, he fit into my hand.
Well not only did he make it but he is beautiful, intelligent and so much fun to be around.
He is my shadow where ever I go and is always eager to play.
He understands many phrases when spoken to him and follows voice commands.
He will be a year old in April and has had his hair trimmed a few times but I am planning on getting it cut this summer.
I would recommend a Snorkie to anyone that wants a friend or playmate with lots of energy and love.