by Blue
(Austin, TX)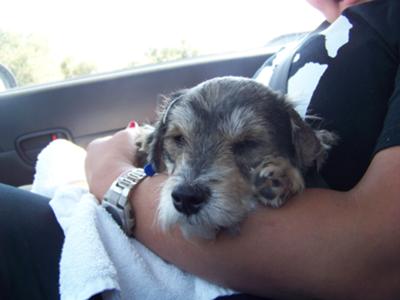 Kirita on his way home from the shelter.
Kirita is very playful and smart snorkie. He was adopted from a local shelter.
According to them age 2.
Through doggy dna
we found out he is half yorkie half mini schnauzer.
He is very cute, has a boxy schnauzer face, black nose, tiny all black eyes. He is a quick learner and super motivated by food and play.
He does have a tendency to growl and bark and although it has been controlled he tends to do it to everyone he encounters in his path except for me (mommy).
It's not a mean growl or defense he is just very vocal several times during the day.
His curiosity level is very high, he is very independent, sleeps with us for some hours and then goes into his kennel the rest of the night.
He is a compulsive chewer and has a lot of energy He will go through toys in hours and if left alone he will try to get things in his mouth and destroy them.
Kira does not shed, he is hypo-allergenic, but has all the skin issues i have had with my previous schnauzers.
He is also very allergic to mold and pollen and the environment (but then again every breathing this in Austin is too)
He likes to play with other dogs.
His physical aspect is of a mini schnauzer, but smaller he is only ten pounds.
His color is of a yorkie brownish tan color with shades of gray. He has the whiskers and eyebrows.
Overall he is very well behaved and lovable. He is both a lap dog and a very energetic dog.