by Adam Lutton
(Northern Ireland)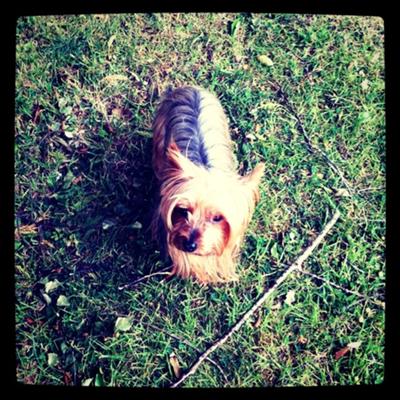 this was a picture taken a few days ago when me and pixie were out in the garden.
My wee Pixie is coming 8 years old during June 2011. Pixie has gave birth to two litters of pups, and from her second litter, we kept a pup, named Poppy. Pixie is the love of my life, she is literally one of the family, she loves getting her cuddles and all the attention in the world. She is the loveliest dog ever, and seems sort of quiet at first.
Pixie enjoys getting loads of ham treats after she has gotten her long hair brushed and chasing after rabbits and squirrels in the garden. I live in a rural part of my country, so there are plenty of little pests for her to chase! Fortunately though nor her or Poppy have ever caught anything. Pixie never seems to want to go for a walk, as our garden is so big to her, it may as well be one run in the garden = a whole weeks worth of walking!
If I ever lost Pixie, which I hope I don't, I would cry for weeks upon end, she is such a happy dog in this family, and I love her so much. It's strange how such beautiful animals can become part of the family so quickly.
I could write endless stories about me and my dog, and I guess so could my mum and dad.. But unfortunately I don't have that many weeks on my hand to write about her!
I could say the same about my wee poppy also. She is just like Pixie, apart from the fact that she is very timid. And when my mum isn't around, she won't take treats off me nor my dad, or come out into the garden for a run. She is so lovingly attached to my mother.
I should mention, that as I am writing this, of course, Poppy is up in the Family Room with my mum, chilling and watching TV. But Pixie is down in my bedroom, almost as if she is watching over me as I am writing this story of her. She's adorable, although she is looking rather tired tonight and has a bad cough. So I shall be letting her rest here with me until it's time for her to go to sleep. We've never let the dogs sleep with anyone in bed, I would love for them to be able to sleep down in my room! But mum and dad won't have it, as much as they love the dogs, they don't want to start habits with them. But don't get me wrong, they are in our spacious kitchen, with the heat at just the right temperature, fresh, freezing cold water, and some of the best, crunchiest dog food you can get. We don't like feeding our dogs that jelly and meaty tinned food, as we know that it is very bad for dogs, it's like setting down a plate of 10 burgers to a human. But then again, I'm in the mood where I wouldn't mind that right now!
Pixie is 7, and I wish with all my heart for her to live many years longer, health worries free. She is all healthy as it seems at the minute, and I would want it to last forever. When she finally has to leave us, it will be the most upsetting thing that I'll ever have to go through. As Pixie has been here for as long as I can remember. And I don't think that Poppy would be the same if Pixie wasn't around either, as they are usually always beside each other. Dogs are really just like a little child in the family. You love them so much, you would do anything to protect them, and you know that they love you back.
Sorry to drag on – whoever is reading this, but I just love to share all about my dog so much. I would really recommend a Yorkie, as they are, to me, one of the most lovable dogs out there, they are loyal, easy to manage, brilliant at learning new things. And they will love you forever and ever.
I also have a story about one time when my Pixie got lost, and I cried until the exact time that she was found, but, I'll save that for another day.
I really thank you so much for taking the time to read this story, it has been the greatest pleasure ever to write about my dog, and I hope I have made someone pick a name choice, or choose to buy a yorkie. Believe me, you will never regret.
If you would like to ask me any questions about these wonderful dogs, or about my own dogs, feel free to contact me at: [email protected]
Many thanks
-Adam