by Lizzy
(London)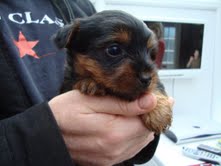 I think Alfie is the perfect yorkie toy dog name!
We were gonna call our Yorkie Sammy but strangely enough our neighbor bought a Bichon Frise called him Sammy so that name was off our list!
Alfie sounds peaceful and cute and it doesn't sound like Rocko or Snazzy.
It is simple but lovely!