by Kia
(Minneapolis)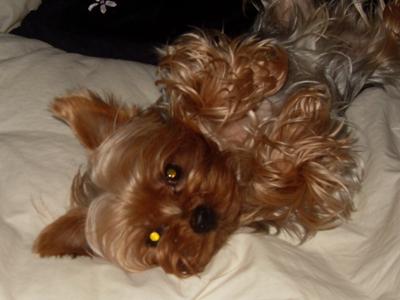 Beau Getting Ready for Bed
Question
Hello,
My boyfriend bought me a male yorkie puppy for our 7 year anniversary.
We named him Beau. He's turning 2 on January 14th.
Beau is a wonderful little guy, full of energy and always excited to be included in everything I do. He was surprisingly extremely easy to train because he is always so eager to please.
Overall, Beau is a very lively yorkie and is not shy of anything. He will come 'talk' to me when he feels ignored and want some attention, and he loves to follow me everywhere I go, snuggling on my lap or next to me every chance he gets.
But, I've noticed from the first day we took him home, that he doesn't like my boyfriend. In fact, he's terrified of my boyfriend. For example, Beau really tenses up when he is near. He stops playing, and seeks shelter under my couch. He trembles tremendously when he's being held by my boyfriend. He refuses to perform any tricks and refuse to come when called.
We have tried training Beau to accepting him. Nothing has worked so far. Beau will easily welcome other men (my dad, brothers, and friends), so it isn't possible that Beau is scared of men in general.
I don't live with my boyfriend, so it can't be a domination issue. What is going on? Is this the 6th sense sensing something I don't? Do dogs really have a 6th sense?
What are other ways I can do to ease Beau into acceptance?
I don't want to see Beau stressed, and my boyfriend is getting frustrated that his petting is not welcomed.
Any help will be greatly appreciated.
Answer
I have never had any experience with this and it does seem strange that your yorkie is fine with all men except for your boyfriend who is the one who brought him home to you.
There is a lot of evidence pointing towards dogs having a sixth sense, however there is no way of knowing if there is anything or what your yorkie is sensing.
Have you tried things like getting your boyfriend to be the one feeding him every night? This might help your yorkie see that your boyfriend is not the enemy.
Maybe you should also take him out for walks as a couple so that Beau gets used to having him around more and then maybe try just having your boyfriend take him for walks.
Does anyone have any other tips on how to help when a yorkie is terrified of one person?