by Carole
(Virginia)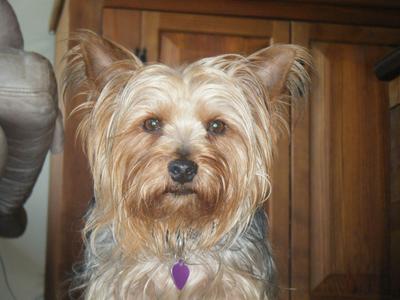 Nix
My daughter and I went to our local SPCA to rescue a medium size dog.
We have always had a pair of labs but the amount of food they eat was tough on our food bill.
We were looking for a companion for our lab after loosing our 16 year old lab that helped me raise 3 children, big shoes to fill.
In the small dog room was a yorkie that was cowering due to the other small dogs shrill barking.
I asked my daughter to take him out for a walk. We ended taking him home that day. He was a clown, a goof and my shadow.
He loved our life, our farm, and our labrador. We had him 5 years when my daughter coming up the drive from college for the week end could not stop in time and hit him.
He died at the vets 30 minutes later. My daughter is crushed as am I. I do not want her to feel bad and I do not blame her. I do not want her to see my pain either.
I miss him terribly. He would jump in my lap and beg for attention. He slept on the floor by my bed.
He loved all our chores around the farm, feeding horses walking the trails what in the world am I going to do with out his clown like behavior his total devotion his loving nature?