by Brina Matthews
(Chattanooga Tn)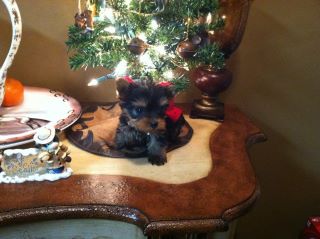 Macie is tiny at 9wks old, she weighs 1 pound.She is very bossy & we are working on this.
She hates it when I dress her up. She growls at me & bites. She will give in and obey but, it is a battle.
She is so strong willed. It is a battle everyday. She is a challenge but I love every minute of it.
She is going to wear her nice dresses & have her hair fixed everyday.
My yorkie, Macie, is just like a child. If I do something she doesnt like she runs to my husband & tells on me in her own way.
She is so cute it is hard not to let her have her way.