by Jan Sara's MOM
(Clearwater, Florida)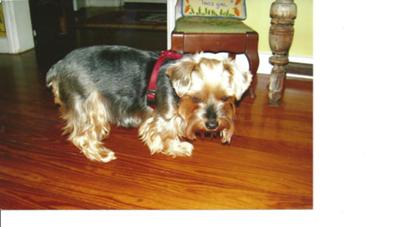 Sara just passed away last month at age 13…she was an amazing little Yorkie!
She lived such a full and happy life…she always had lots of family and other animals in the house to love her and play with.
She had an amazing personality and we will miss her so much!!!! Sara ruled the house, even though she was only between 10 and 12 pounds (actually large for a Yorkie).
Sara believed that all the toys in the house were hers and all the chew toys.
It took us a year to potty train her because of her complete stubborn Yorkie attitude! WE MISS HER SO MUCH…
LOVE YOU SARA
Jan, Calvin, Sammie (sister) and your family!