by Lin, Lauren, and Katia
(UK)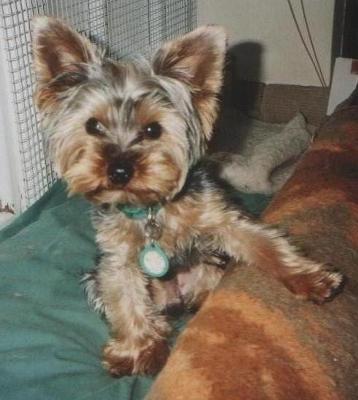 our precious PJ, 5 September 2002 – 10 November 2011
This is our precious little Yorkie PJ.
Tragically, without us knowing, he swallowed half a brazil nut. Where he found it we have no idea.
He didn't choke or seem unwell that day. The next day he became sick and was rushed to the vet for emergency treatment.
He was put on a drip, but our little fur baby didn't make it.
He was only 9 years old. We are devastated… PJ was a lively, cheeky, amusing little dog who was dearly loved by us all, including his bichon frise sister Lottie.
It seems impossible that we won't see his cute, intelligent face anymore or hear his excited barking when he would tell us it was dinner time, or cuddle his warm little body as he snoozed in our arms in the evening.
Darling PJ, sleep in peace little man. We will always love you and remember you and the happy times, until we are together again over the Rainbow Bridge.
Sending all our love and cuddles to you little Peege, from your mum Lin, your auntie Katia, your sis Lauren, your doggy sis Lottie, and all your family and friends who miss you more than words can say. LOVE YOU SOOOOO MUCH PJ!!!!!!!
<3<3<3<3<3<3<3<3<3 LOVE HEARTS IN MEMORY OF OUR PJ, 1 FOR EACH OF THE 9 YEARS OF HIS LIFE.