by Stephen & Colleen
(Belleville Ontario )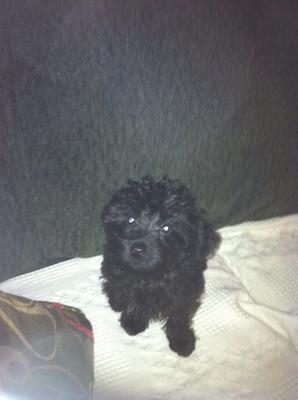 Roxy came to us at 13 wks, we loved her instantly. She's 5 months old now and weighs 4 Lbs.
Her mother was a toy poodle & her Dad, a Yorkie.
We are in the process of potty training and doing quite well,,,,,with accidents. Roxy is loving & cuddly? My husband lets her outside at 630am then she comes to bed with me,,,,,,sleeps beside me until I get up.
She loves her chew toys,,,& doing well but have caught her trying to Chew a shoe.
She seems to look more like a Yorkie,,with long hair( seems to have a bad hair day often).
We're retired & were not sure about the commitment, but we are so glad we did,,,,sweet little girl