by Alan J Stolz
(New York City & Southampton, NY)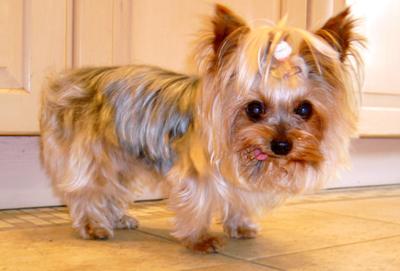 Samantha after Bath
After my first store-bought Yorkie died at the age of 14, I waited a few months and then found myself on the internet again looking at new puppies.
A friend said I should look into adopting a Yorkie who really needs a good home. I found Yorkie Rescue Me.
What a great organization. They have about 5 or 6 foster homes that care for these dogs until they are adopted.
I filled out my application and kept looking for "that special one". Then, the day after Thanksgiving in 2006, I visited the website and saw her… little Samantha.. with her tongue hanging out and the cutest face ever!! (We all say that, don't we?).
I contacted them about more information and drove down to the foster home that Monday to pick her up. I love her more than anything and I think she is happy with me too.
Then on December 1st of 2009 I went to another foster mom's house to pick up my second Yorkie… this time an active 8 year old male named Spencer.
He has fit in perfectly and I feel that I was so lucky to adopt the two best little ones ever.
Don't wait. If you can provide a loving home to one in need, they'll spend the rest of their days giving you all the love and enjoyment you'll ever want.