by Tracey Bell
(Newcsatle)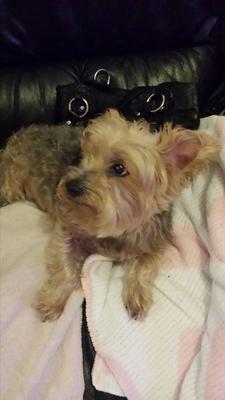 I had my beautiful lil Shane for 13 years. He was the most loving precious lil dog i have ever known. He was by my side for 13 years constantly, by day and has slept with me every night.
15 months ago he got a brain tumour, and started having horrific seizures, which were controlled by Phenabarbatone eventually after 4 months. Within a year he had about 4 more seizures, then 3 days ago October 3rd he got sick with a high temperature, he then had a seizure,we took him to the vets, they get him in and gave him intravenous antibiotics and painkillers.
We took him home, and he got no better, went back to vets next morning and they gave him injections of painkillers, and we brought him home.
All that day he was just staring and could not sleep. He would just stare at us as if to say help im in pain. He then started loosing the feeling in his back legs and was very weak. He was so ill he could not even sleep, even though he had not slept for 3 days.
We put him off the couch onto the floor and he just lay there and could not stand up, just staring to the ceiling. I knew it was time, and we took him to the vets, and he was put to sleep.
That was yesterday 5th October 2013, my heart is breaking, i feel so lost, everywhere i go im looking and think he should be here, as he has been by my side for 13 years. When i go to bed i cannot sleep as he is not here. I am 48 years old, and i cannot stop crying.
I dont think i will ever get over this loss of my lil man Shane. He gave me so much love, and knew even what i was thinking, as i did him. I hope and pray now he is with the angels in heaven.
He is no longer in pain and suffering, but im still feeling should i have waited longer, but to see him suffer was just too much for him and we were helpless to help him, as we had tried all we could. It would not have been fare to leave him even till the next morning.
RIP Shane we all love you with all our hearts, and you will be with us in our hearts forever and ever, you are my special lil man , reeny, was my nickname for him, i love you sooooooo soooooo much reen, forever and ever. Please send us a sign that we know you are at peace in heaven.