by Irene
(Oceanside, Ca)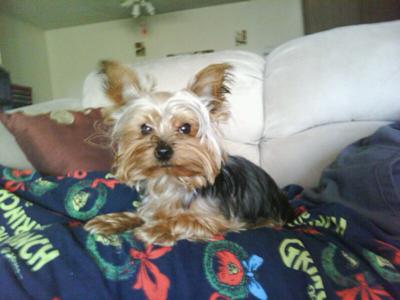 Our little lap dog
I've had my yorkie Lola for a little over a year now. She was the runt of the litter and I knew right off the bat she was the one for me.
She's very playful and at about 8 months of age she was already playing fetch, self taught too!
She plays with our cats and helps me scold them as well, if I reprimand them for doing something bad she will run over and growl and bark at them and run back to me like she's saying "did I do it right mommy?"
She's so cute and my best friend. I could be gone for 10-15 minutes and as soon as I come in the door her little "nub" (since her tail was docked) is waging in full force!
She's great at cuddling and loves to lounge around with me. She's very smart and knows when its bed time, she grabs a hold of our socks and growls in a playful way trying to get us to go to bed.
I'm very happy with my decision to get a Yorkie. I'm planning on getting another one for her to play with.