Picture Frame: Yorkshire Terrier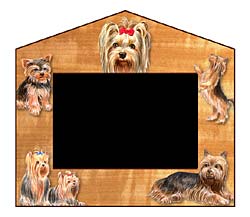 This Yorkshire Terrier picture frame features wonderful artwork of your favorite dog breed. Showing off your pictures has never been easier with the Yorkie photo frame.
The perfect Yorkshire Terrier gift item. Each doghouse shaped frame holds a 3 x 5 or 4 x 6 inch photograph.
Approximate size on the Yorkshire Terrier frame is 6.25 x 7 inches.
---
Picture Frame: Yorkie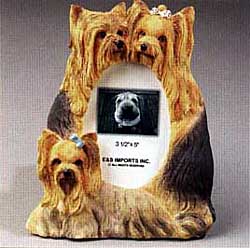 Showing off your photograph has never been easier with our Yorkshire Terrier picture frame. Made from durable poly resin, each three dimensional Yorkie photo frame is hand sculpted and painted.
Individually packaged, this high quality Yorkshire Terrier picture frame makes a nice gift for dog enthusiasts.
Each Yorkie frame holds a 3.5 x 5 inch photo and measures approximately 5.5 x 7 inches.
Browse through yorkshire terrier jewelry