We want to hear about your Yorkshire Terrier Puppies!
Many readers on this site want to know more about yorkie pups.  I have only had experience with my Harry.
So I would like to hear more from everyone else.
The main questions and concerns that I receive emails about are, what their personalities and temperaments are like, what problems did you encounter in training….now I want to hear all this and more! I want everyone who writes in to us to tell us a cute Yorkshire terrier puppy story.
I know you all must have loads of stories to tell us!  I am only speaking for myself but I would like to hear them and I am sure that there are a lot of people out there who would also love to know more about your yorkie!
If you are going to write in, please also provide us with a cute picture of your yorkie so we can see who the story is about.
I have decided to give away a free bonus e-book to whoever provides us with the best Yorkshire terrier puppy story!
You will have a choice of receiving either of 2 reports: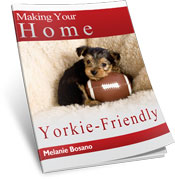 Making your home Yorkie friendly
OR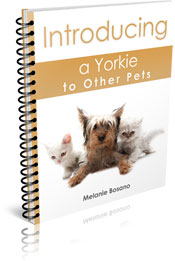 Introducing your Yorkie to other pets
I will not judge which the best story is until we have 50 submissions, so basically closing time for this competition is whenever we get to 50 submissions.
Tell us about your Yorkie Puppy
Ok for this contest you can write just about anything you want…
Problems or delights!
What has been your biggest challenge in becoming a good yorkie owner?
What is the cutest thing your yorkie pup ever did?
What is the naughtiest thing your yorkie has ever done, or the most embarrassing?
Remember, the best story will get a free bonus report or your choice!

What Other Visitors Have Said
Click below to see contributions from other visitors to this page…
The Misses' Sasha and Deladis do Tiffanys! and Ho ho ho, Merry Christmas! 
We adopted Sasha when she was 4 almost 2 years ago from a breeder when she was no longer a "money maker"—the breeder couldn't get rid of her fast enough. …
Our yorkie shows us Forever Love 
Two years ago my husband Sonny got me Dixy Rebel for my birthday…Dixy has always been my dog and stays with me all the time. Being a puppy mill Yorkie …
The invisible yorkie 
We have a one year old yorkie pup. Whenever you walk into a room and she's into something she knows she shouldn't be doing she freezes. As if …
My Yorkie Puppy Gucci 
Gucci is my first dog. I knew I wanted a yorkie, but I did not do my homework on this breed. I have researched after the fact. I have learned so much …
Cuddles & Brandi  
When we put our yorkie Cuddles out to go potty, then she comes back in she will go right over to our space heater stand right up at it to get warm. …
My Yorkie puppy – Lulu 
Lulu is the best dog anyone could ever want! She is so loving and friendly! It all started when I was on holiday with my dad. We had just come back …
My Little Yorkie Puppy Mia 
My little puppy Mia Smith is the most cutest, mischievous miniature yorkie ever! Bringing her home at only 6 weeks old was amazing, although a very …
Maxell's Story 
Hello, my name is Felicianne, I write this now as I'm about to lose my baby. Maxwell turned 18 years old May 28th 2013. He was a very active …
Pebbles 
Pebbles is our new Yorkie puppy that will be a playmate for our other Yorkie Sweetpea. Ever since we got Sweetpea we have fallen in love with the Yorkie …
my little joey 
My dog is tiny and so sweet. His name is joey he loves to lick you and love on you he is smart and he is trained. The funnist thing joey has ever …
My name is Snoopy and I am Not a Beagle! 
MY NAME IS SNOOPY AND I AM NOT A BEAGLE! …
My yorkie Echo0o0o0o 
Hello all you beautiful yorkie lovers.Not sure if you read my story about my Schatzie I lost in oct of 2010. I have recently adopted a 7 week old 1.3 …
Return from our Yorkie Pups contest to our Yorkshire Terriers Homepage