by Bev
(Cape Cod, MA, USA)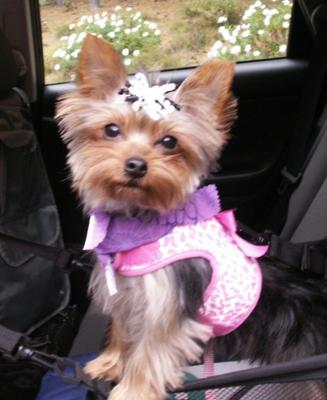 Chloe, sweet & quiet
I have two Yorkie females, one is 2 1/2 years old and the other is turning one year in May. I also take care of my daughter's two Yorkies while she works and they are males, one almost 4 years old and the other is 2 1/2 years old.
Recently I cannot take them out for exercise or potty because there is a nest in back of my home with Hawks. They are always swarming around and I am afraid they will one day pick up one of these dogs and take it away for food.
Needlesstosay, that means four of them are pottying in the house on pee pads, kind of costly, and the males sometimes are lifting their legs here and there so I am always cleaning up.
Does anyone have any advice for me on how to make life a little easier right now?
Any help is much appreciated.