by Gregg Steele
(Marina Del Rey, CA)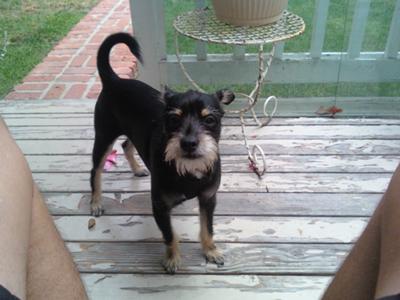 Our Brodie!
We aquired our Chorkie from our daughter who returned from college for the summer with him, knowing she already had enough on our plate, we reluctantly took him in, since then we have fallen deeply in love with him.
My wife and I and have been life long dog lovers, we previusly had large breeds but living by the beach with not a lot of yard, we transitioned to smaller breeds.
We were not in the market for a new dog because we have two senior dogs both 15 years old, a Jack Russell Terrier and Shelty.
Although the Chorkie constantly harrases the older dogs, we think in a way it helps them stay active.
Your discription above is pretty accurate, the only thing we would add is that brodie also has a never ending teething problem, not really biting, but pretty hard chewing, we have a whole basket of chew toys that he regularly uses. Our vet thinks this will subside with age.
He is the most lovable dog in the world, also on another note, he seems a bit larger than most yorkies or Chihuahuas?
He is 13 pounds, which is the same as our JRT, but he is longer?