The Yorkie Chihuahua mix, is a charming and unique crossbreed that combines the traits of the Yorkshire Terrier and the Chihuahua.
AKA Chorkie, Yorkiechi
First known as a 'designer dog', they quickly gained popularity and became one of the most sought-out mutts. There are already many 'designer dogs' available and you can look for a chihuahua yorkie mix at a yorkshire terrier rescue and might find one to adopt.
Here's what you need to know about this yorkie mix:
Characteristics of a Yorkie Chihuahua mix
The Chorkie inherits a blend of physical and behavioral traits from its parent breeds, resulting in a distinct set of characteristics:
Size: generally small-sized dogs, weighing between 4 and 10 pounds and standing around 6 to 9 inches tall. Their compact stature makes them suitable for apartment living or homes with limited space.
Coat: often have a variety of coat colors and patterns, ranging from solid to a mix of colors. Their coats can be long, silky, and straight or short and smooth, depending on the specific genetic makeup.
Temperament: known for their lively and confident personalities. They are often affectionate, displaying loyalty and a strong bond with their owners. While they can be independent at times, they thrive on attention and companionship.
Energy level: tend to be energetic and enjoy playtime and outdoor activities. However, their exercise needs can be met with daily walks and interactive play indoors, making them suitable for owners with different activity levels.
Intelligence: generally intelligent dogs that can quickly grasp new commands and tricks. This makes them trainable, although some individuals may display a stubborn streak. Consistent and positive reinforcement methods work best during training sessions.
Appearance and Size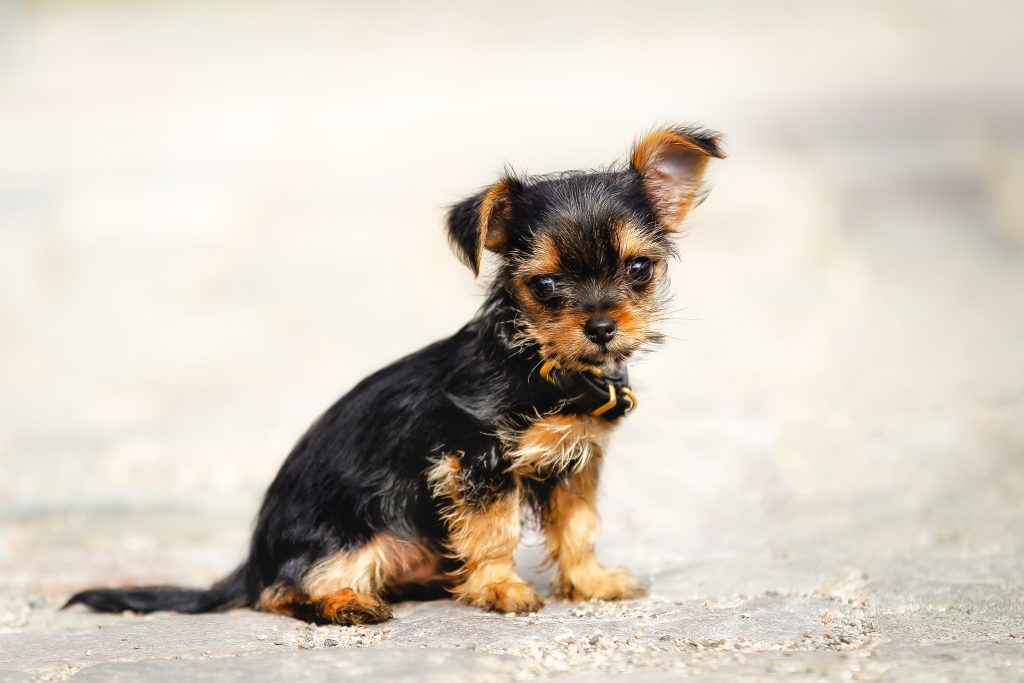 The physical appearance of a Chorkie can vary depending on the genetic contributions from its parent breeds:
Body: often have a compact and well-proportioned body, combining the characteristics of both the Yorkshire Terrier and the Chihuahua.
Ears: typically have pointy ears that stand upright, adding to their adorable charm.
Coat: may have a long, silky coat resembling that of a Yorkie or a shorter, smooth coat resembling a Chihuahua. The coat can come in various colors, including black, tan, brown, or a combination of these.
Size: as mentioned earlier, Chorkies are small dogs, usually weighing between 4 and 10 pounds and standing around 6 to 9 inches tall at the shoulder. Due to the small size of both the Chihuahua breed and yorkshire terrier dog this is a very small dog also and is a great lap dog! Due to their small size they might not be the best breed for very young children as they might not realise how easy it is to hurt them. They are fragile dogs.
Temperament and Personality
Chorkies have a unique blend of temperamental traits that can make them delightful companions:
Affectionate: often affectionate dogs that form strong bonds with their owners. They enjoy being close and thrive on companionship and attention.
Lively: lively and energetic nature, often displaying bursts of playful energy. Engaging them in interactive play and regular exercise helps keep them mentally and physically stimulated.
Confident: tend to have a confident and bold personality. They are not easily intimidated and can exhibit a fearless demeanor.
Independent: while they enjoy human company, Chorkies also possess a level of independence. May exhibit some stubbornness at times, but with patience and consistent training, they can be well-behaved and obedient.
Understanding the characteristics, appearance, and temperament of the Yorkie Chihuahua mix sets the foundation for providing them with the care, training, and companionship they need to thrive.
Caring for Your Chorkie
Proper care is essential for the health and well-being of your Chorkie. Here are some important aspects to consider:
Diet and Nutrition
Maintaining a balanced and nutritious diet is crucial for the overall health of your Chorkie. Here are some tips:
High-quality dog food: choose a high-quality commercial dog food that is specifically formulated for small breeds. Look for options that include real meat as the main ingredient and avoid artificial additives or fillers.
Portion control: are prone to weight gain, so it's important to measure their food portions to prevent overfeeding. Follow the feeding guidelines provided on the dog food packaging and consult your veterinarian for personalized advice.
Meal frequency: generally benefit from having two to three small meals throughout the day rather than one large meal. This helps prevent digestive issues and keeps their energy levels stable.
Exercise and Physical Activity
While Chorkies are small in size, they still require regular exercise and physical activity to keep them healthy and happy. Here's what you need to know:
Daily walks: try for daily walks to provide mental stimulation and physical exercise. Aim for at least 20 to 30 minutes of brisk walking each day.
Playtime: engage in interactive play sessions with your Chorkie using toys such as balls, ropes, or puzzle toys. This helps burn off excess energy and strengthens the bond between you and your pet.
Indoor activities: benefit from indoor activities like playing fetch in a hallway, teaching them new tricks, or using interactive feeding toys to keep their minds active.
Grooming Needs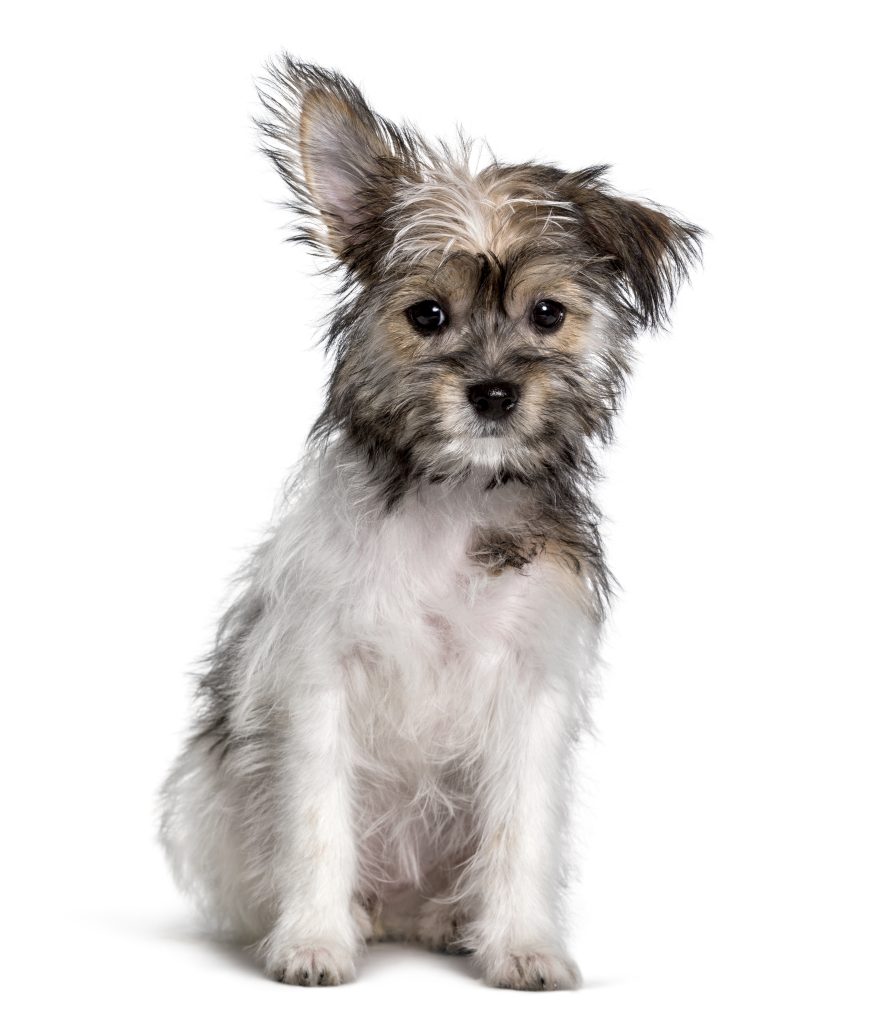 Proper grooming ensures your Chorkie's coat remains healthy and prevents common issues like matting or tangling. Here are some grooming tips:
Brushing: those with long coats should be brushed daily to prevent tangles and matting. Use a soft-bristle brush or a comb to gently remove any knots or debris. Chorkies with short coats can be brushed weekly to keep their coat clean and shiny.
Bathing: typically require bathing every 2 to 4 weeks, depending on their activity level and coat condition. Use a mild dog shampoo and ensure thorough rinsing to avoid skin irritation.
Nail trimming: trim nails regularly, approximately every 3 to 4 weeks. Use proper dog nail clippers and be cautious not to cut into the quick, which can cause bleeding and discomfort.
Ear care: Check your Chorkie's ears regularly for signs of infection, wax buildup, or redness. Clean their ears using a gentle dog ear cleaner and cotton balls, being careful not to insert anything deep into the ear canal.
By providing a balanced diet, regular exercise, and proper grooming, you can ensure that your Chorkie remains healthy and happy.
Training and Socialization
They are very smart dogs and will be easy to train, however can be a little yappy. They will most likely be very vocal around strangers mostly due to their shyness and they are known to be wary or even scared around those they don't know.
Training and socialization are essential for raising a well-behaved and well-adjusted Chorkie. Here's what you need to know:
Basic Obedience Training
Establishing a foundation of basic obedience skills is important for your Chorkie's behavior and your relationship with them. Here are some training tips:
Positive reinforcement: use positive reinforcement techniques, such as treats, praise, and rewards, to motivate and reward your Chorkie for desired behaviors. This creates a positive learning environment and encourages their cooperation.
Consistency: be consistent with your training commands, expectations, and rewards. Chorkies respond well to routines and clear instructions.
Start early: begin training your Chorkie as early as possible. The earlier you start, the easier it will be to shape their behavior and instill good habits.
Focus on essential commands: teach your Chorkie basic commands like sit, stay, come, and down. These commands establish control and ensure their safety in various situations.
Remember to keep training sessions short and engaging, with frequent breaks to avoid overstimulation or boredom. Patience, consistency, and positive reinforcement are key to successful obedience training.
Socialization with Humans and Other Pets
Proper socialization helps your Chorkie become well-rounded and comfortable in various environments and social settings. Consider the following tips for socializing your Chorkie:
Expose them to different experiences: introduce your Chorkie to various sights, sounds, and environments from a young age. Expose them to different people, including children and individuals with different appearances or voices.
Positive interactions: encourage positive interactions with humans by allowing them to meet and interact with new people, always under supervision. Reward your Chorkie with treats and praise for calm and friendly behavior.
Other pets: gradually introduce your Chorkie to other pets in a controlled and supervised manner. Ensure positive interactions and provide a safe space for each animal to get acquainted.
Training classes: consider enrolling your Chorkie in puppy training classes or socialization sessions. These structured environments provide opportunities for controlled interactions with other dogs and professional guidance.
Remember to be patient and supportive during the socialization process. Early and ongoing socialization will help your Chorkie become a confident, friendly, and well-behaved companion.
Yorkshire chihuahua mix – Health and Potential Issues
Taking care of your Chorkie's health is essential for their overall well-being. Here are some important aspects to consider:
Common Health Conditions
Chorkies, like any other dog breed, may be prone to certain health conditions. While not all Chorkies will experience these issues, it's important to be aware of them. Common health conditions include:
Dental problems: are susceptible to dental issues such as tooth decay and gum disease. Regular dental care, including brushing their teeth and providing dental chews, can help maintain their oral health.
Patellar luxation: may be prone to patellar luxation, a condition where the kneecap dislocates from its normal position. Regular exercise, maintaining a healthy weight, and monitoring their movement can help reduce the risk.
Respiratory problems: due to their small size and brachycephalic traits inherited from the Chihuahua parent, Chorkies may be prone to respiratory issues. Avoid exposing them to extreme temperatures and ensure proper ventilation in their living environment.
Eye problems: can be prone to eye issues such as cataracts, corneal ulcers, or dry eye. Regular eye examinations by a veterinarian and proper eye care can help detect and manage these conditions.
Regular Veterinary Care
Regular veterinary care is essential for maintaining your Chorkie's health. Here are some key aspects of veterinary care:
Vaccinations: should receive the necessary vaccinations to protect them from common canine diseases. Consult with your veterinarian to determine the appropriate vaccination schedule.
Routine check-ups: schedule regular check-ups with your veterinarian, typically once or twice a year. These visits allow for preventive care, early detection of health issues, and monitoring of your Chorkie's overall well-being.
Parasite control: implement a comprehensive parasite prevention program, including protection against fleas, ticks, heartworms, and intestinal parasites. Your veterinarian can recommend suitable preventive medications.
Spaying or neutering: discuss with your veterinarian the appropriate time to spay or neuter your Chorkie. This procedure can help prevent certain health issues and contribute to population control.
Preventive Measures
In addition to regular veterinary care, there are preventive measures you can take to keep your Chorkie healthy:
Proper nutrition: feed your Chorkie a balanced diet that meets their nutritional needs. Avoid overfeeding and provide appropriate portion sizes to prevent obesity.
Regular exercise: engage your Chorkie in regular exercise and mental stimulation to keep them physically fit and mentally stimulated. Consult with your veterinarian to determine the appropriate exercise routine.
Safe environment: create a safe living environment for your Chorkie by removing hazards, ensuring proper fencing, and keeping toxic substances out of reach.
Dental care: establish a dental care routine, including regular toothbrushing, dental chews, or dental cleanings under veterinary supervision.
By being proactive in your Chorkie's healthcare, you can help prevent potential issues, detect health conditions early, and provide them with the best possible quality of life. Regular veterinary care and preventive measures are key to keeping your Chorkie happy and healthy.
FAQs
Here are answers to some frequently asked questions about Chorkies:
Q: What is the average lifespan of a Chorkie? A: On average, Chorkies have a lifespan of 10 to 15 years. Providing proper care, nutrition, and regular veterinary check-ups can help maximize their lifespan.
Q: Are Chorkies good with children and other pets? A: Chorkies can get along well with children and other pets when properly socialized from a young age. Supervision is always recommended, especially with younger children, to ensure positive interactions and prevent any accidental injuries.
Q: How much exercise do Chorkies require? A: Chorkies have moderate exercise needs. Daily walks and interactive play sessions totaling around 30 minutes to an hour should be sufficient to keep them mentally and physically stimulated. However, it's essential to consider their individual energy levels and adjust exercise accordingly.
Q: Do Chorkies shed a lot? A: Chorkies can have varying shedding tendencies depending on their specific coat type. Chorkies with long, silky coats may shed lightly, similar to a Yorkie. Those with short, smooth coats, resembling a Chihuahua, may shed minimally. Regular brushing can help manage shedding and keep their coat healthy.
Q: How often should I groom my Chorkie? A: Grooming needs for Chorkies depend on their coat type. Long-haired Chorkies should be brushed daily to prevent tangles and matting. Short-haired Chorkies may only require weekly brushing. Regular bathing, nail trimming, and ear cleaning should be done as needed, usually every few weeks.
Q: What kind of diet is suitable for a Chorkie? A: A high-quality commercial dog food formulated for small breeds is typically suitable for Chorkies. Look for options with real meat as the main ingredient and avoid artificial additives or fillers. Consult with your veterinarian for personalized dietary recommendations based on your Chorkie's age, weight, and specific needs.
Remember that individual Chorkies may have unique needs and characteristics. Consult with a veterinarian or a professional dog trainer for personalized advice and guidance based on your specific Chorkie's needs and temperament.
Check out https://www.dogbreedinfo.com/chorkie.htm for lots of cute chorkie photos!
Read on to meet all the yorkie-chihuahua mix dogs that have been submitted by our readers.
Do you own a Yorkie Chihuahua Mix?
Does anyone own a Chorkie? What does your yorkie chihuahua mix look like? Does it take after yorkies or chihuahuas?
Does it's temperament sound anything like what is described above or is your chorkie completely different?
We would love to know more 🙂
Would you like to share your chorkie photos with us? Your Yorkie Chihuahua Mix could be famous!
What Other Visitors Have Said
Click below to see contributions from other visitors to this page…
Meet our Chorkie Toby!
We keep dogs for life and until Toby, we'd only had Cocker Spaniels. I despised Chihuahuas! Then one day, we stopped off at my son's best friend's …
Our adopted Yorkie Chihuahua Mix Rizzo
We've only had Rizzo for a few days (we adopted her from the pound), but she is fitting very well into our household and is very sweet. She has quickly …
Our Yorkie chihuahua mix Gizmo
Our Chorkie, Gizmo, is full of life he is a cuddle bug! He will cuddle with anyone! He loves to lay on your lap and would rather lay on your lap all day …
My Chorkie – Chirp
Chirp, my yorkie chihuahua mix, was found cold, wet and shivering in my local shelter in RI. I was there to volunteer and left with her unexpectedly. …
Rusty, my Chorkie
Rusty became part of our family when he was 11 wks old. His Mom is a purebred black Chihuahua and his Dad is a purebred Yorkie. He weighed 2lbs. …
My chorkie Macy
Macy will turn 1 on February 8th 2011. She is a very calm and loving girl and loves sitting In her Mommy's lap and playing with her toys! She …
Yorkie Chihuahua mix – Scruffy Mecale
My Yorkie Chihuahua mix, Scruffy, is 15 weeks now and he is a brat. He is greyish white in color and is whinny when he sees me or my husband. He …
My Yorkie – Chihuahua mix Dexter
Dexter is a yorkie chihuahua mix & he's adorable sweet & loves everyone!!!!
Ninja
She is female. Is short coat chihuahua+Yorkie mix, but which one is mother and father I can't remember. She has very soft pure black hair, small size. …
Milo
We just adopted milo at the age of 8 weeks at the beginning of august. Her temperment seems pretty good, she's very friendly and has a great personality. …
Spencer
My yorkie chihuahua mix, Spencer, is a wonderful little man. He is not at all like the temperment described, he loves people and will do anything …
Maddie
Well first of all my dog is a yorkie mix with chihuahua, i really love my dog an she is also a female dog. Like it barks at everyone and we always …
Casper
He has the apple shape head. His face is brown. But his body is silver and gray the hair is semi long on his back. And His tail is fluffy. He is very …
Emmy
We have had our chorkie for 2 years now. We also have 2 chihuahuas that are 9 and 11 and she is like a mother to them. She was very hard to train. …
pocket
Well first of all I named her pocket because when we got her she could fit in our pocket. She is the best dog I know. She is as sweet as can be and …
Hilda
Hilda was a present to my oldest son for his birthday. I wanted a small dog for apartment living. She is perfect! She has a wonderful personality …
Our Yorkie chihuahua mix – Halo
Our baby is the best little one we have ever had. She is so cute and still looks like a puppy. She loves to be held and snuggled and she loves to play. …
Our Chorkie Jazmyn
Jazmyn is 3/4 yorkie and 1/4 chihuahua. She is now two years old. She has large eyes that have black edges, a black nose with a longer black muzzle, …
Our Yorkie Chihuahua Mix – Lily
Our chorkie Lily is very affectionate and loves to cuddle up to your neck like a cat. She's quick to spring into action if she hears something or …
This is my Chorkie – EllaBella
We have had Ella since she was about two months old. She is very playful and does well with our children who are 14,10, and 14 months. She is …
I'm fostering this chorkie, meet Louie everyone
I'm currently fostering this little man, his owners decided he was too yappy already (he's 8 weeks old) and surrendered him. He's very much a yorkie, …
Meet my chorkie – Jasper
My Chorkie is only 8 weeks old, so not quite sure on his temperament yet. But he seems to be very calm. Loves to sleep but I believe that's the puppy …
Yorkie Chihuahua mix – Logan
I adoped my Chorkie when he was six months old. The lady I adopted him from couldn't keep him because of her landlord. This is my first small dog and …
My Yorkie Chihuahua Mix – Brooklyn
My Yorkie Chihuahua Mix, Brooklyn, is very friendly and loveable! The only trouble I'm having is potty training her! She doesn't let me know when she …
Yorkie chihuahua mix – Lucy
My yorkie chichuahua mix is very similar to the above description. She is super smart and extremely loyal. She loves to fetch and chew anything that …
My Yorkie Chihuahua Mix – Layla
We just got our chorkie a few days ago and tomorrow she will be 9 weeks! She has the sweetest personality ever..and of course she is my little prinicess. …
My Yorkie Chihuahua Mix – Sushi
I was under the impression I was purchasing a full breed Yorkie, and he was shipped to me however when I got him I noticed his muzzle was a little longer …
My Chorkie – Pixinator
Pixie came to our family as somewhat of a rescue. A neighbor of my sister approached my husband and I one day while we were visiting my sister. …
My Yorkie Chihuahua mix – Hero
Hero is lovable and adored by every one he encounters! Loves to investigate every new place we happen to visit or new route of walk. He is a very …
My Yorkie Chihuahua Mix Ruby
We got Ruby when she was 8 weeks old. I got her from a friend at work. The day before my friend was going to get the mother (a Yorkie) spayed, her …
Princess Chorkie
My chorkie is a black & silver, and her hair is about middle length. Yes, these dogs are very fragile. She is a little yappy, but only around loud …
My Chorkie Bailey
I could not be happier with my Chorkie Bailey. He has the best personality and is hands-down the best dog. He plays when you want to play, he snuggles …
My Chorkie – SPARKIE
My Chorkie- Sparkie is a lil over a year old now. He is my life, my best friend.He is always excited to see me when I come home from work. I have …
Brodie
We aquired our Chorkie from our daughter who returned from college for the summer with him, knowing she already had enough on our plate, we reluctantly …
Molly
Molly is my feisty little chorkie, she just turned 16 weeks and weighs about 3 1/2 pounds. She is 1 out of a litter of 4 and is the only long hair …
Bobbin
My yorkie-chihuahua mix is very sweet and tiny. He loves attention and does not like strangers or other male dogs but he is very sweet. He really …
Spicy
My dog is a male chorkie and he's 2 1/2 years old and about 4lbs. He never meets a stranger and loves everyone, especially children! He does like …
Riley Roo
Riley is very affectionate. He follows me everywhere and is very vocal. It's amazing the sounds he can make. He is very cuddly and outgoing!
Gracie
Gracie is the best dog I have ever had. She is very well mannered she is not yappy at all I think she only barks maybe once a day if shes lucky and thats …
Mercedes
My dogs name is Mercedes and she is a female Yorkie Chihuahua Mix. We always call her Meche for short. She just turned 2 years old this month of May …
Return from Yorkie Chihuahua Mix to Yorkie Mix
Return to our Yorkshire Terrier homepage