by Teresa Barnes
(Concord, NC)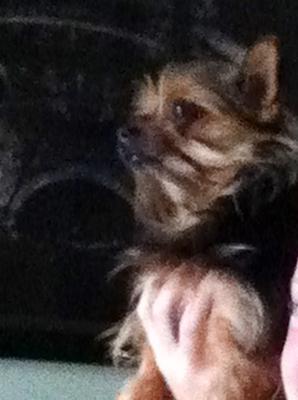 I wonder who is gonna hold me next…
Hilda was a present to my oldest son for his birthday.
I wanted a small dog for apartment living. She is perfect!
She has a wonderful personality and loves attention.
My son sits down on the couch and she comes up and lays down on his chest so he can pet her. If he ignores her, she takes her foot and pats him on the chin so he pays attention.
If he is talking, she puts her foot over his mouth so he'll stop!
She's persistent. My Grandaughter carries her around like a baby; dresses her up, kisses her and Hilda is very patient.
I don't think I could have found a better dog. Someday, I would like to have one myself!