by Abby
(Cedar Rapids, Iowa)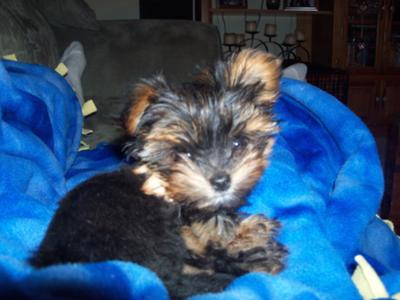 We just adopted milo at the age of 8 weeks at the beginning of august.
Her temperment seems pretty good, she's very friendly and has a great personality.
The only downside seems to be that she has a tendancy to cry through the night every single night.
We are kenneling her at night, and through out the day while we are at work.
We tried to let her sleep with us, but the accidents she was having in bed were unacceptable.
But for the most part very good, brave (she doesn't realize that she's only like 2 lbs) and gets along great with other dogs, cats and people.
She's VERY smart, she learned her name within a day and already knows quite a few tricks.
Also, we've noticed that she doesn't shed at all, which is a major plus.
I'm very happy with our decision to go with a yorkie – chihuahua mix.