by Terri Smith
(United Kingdom)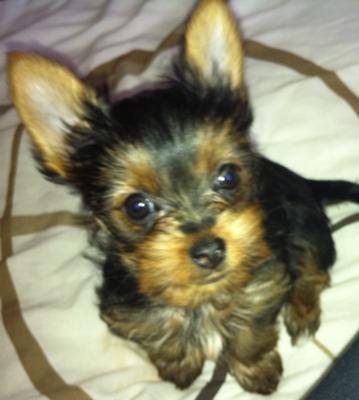 My little puppy Mia Smith is the most cutest, mischievous miniature yorkie ever!
Bringing her home at only 6 weeks old was amazing, although a very big challenge.
Being our first ever dog we didn't expect it to be easy….. after countless wee's on the floor and random little poo's our Mia finally learnt to do it outside…. or so we thought…
One night Mia climbed up on my boyfriend look him dead in the eye and continued to urinate all over him!
But now she seems ok with doing it outside for 18 weeks old…. she isn't doing to bad.
We also used to find her STANDING in her water bowl as she was so tiny.
Recently we have let her sleep in my room… waking me up with her wacky barking only to realise she is barking at the wind through the open window!
Mia is so -playful, you will only get a fuss when she wants to sleep on you!
But taking her for walks is a treat…. if she see's a stranger she will not leave them alone until they fuss her! and most people can't resist!
She does the most funny things… running off with peoples keys, sitting on your shoulder like a parrot and eating/drinking almost anything she finds… including lager!
But i wouldn't change her for the world…my little yorkie Mia 🙂
Simply click here to return to Yorkie Puppys Contest.