by Laura
(Massachusetts)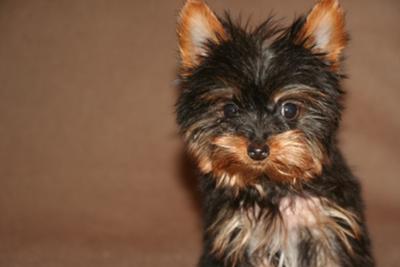 YORKIE BITING
Hi,
Yorkie biting!!!!! I have a 4-months-old yorkie who is biting me all the time. I don't know what to do to teach him not to do it. He started biting my feet fingers, then my hand fingers and he recently bit my eyelid when I was having a nap. It hurts.
I would sincerely appreciate your advises.
All best & thank you,
Laura
Editors answer:
Yorkie Biting: Understanding and Addressing the Issue
Yorkshire Terriers, or Yorkies, are adorable and affectionate small dogs known for their energetic nature and playful personalities. However, like any other breed, Yorkies may sometimes exhibit undesirable behaviors such as biting.
While biting is a common issue among many dogs, it is crucial to address this behavior promptly and effectively to ensure a safe and harmonious living environment.
In this reply, we will delve into the reasons behind Yorkie biting and provide practical strategies to curb this behavior.
Understanding the Reasons Behind Yorkie Biting
Fear and Anxiety: Yorkies, due to their small size, may feel threatened or fearful in certain situations, leading to defensive biting. It is important to identify triggers that cause fear or anxiety in your Yorkie, such as unfamiliar people, loud noises, or specific environments.
Protective Instincts: Yorkies are known to be protective of their owners, and their biting behavior might stem from a perceived threat to their family or territory. This instinct can manifest when someone approaches their owner aggressively or invades their personal space.
Lack of Socialization: Insufficient exposure to various people, animals, and environments during their early development stages can result in Yorkies feeling uncomfortable or fearful in unfamiliar situations. This can lead to defensive biting as a way to protect themselves.
Medical Issues: Sometimes, underlying medical conditions or pain can cause a generally well-behaved Yorkie to bite unexpectedly. If your Yorkie's biting behavior appears sudden or unusual, it is advisable to consult a veterinarian to rule out any potential health problems.
Strategies to Address Yorkie Biting
Socialization: Gradually introduce your Yorkie to new people, animals, and environments in a positive and controlled manner. This will help them build confidence and reduce anxiety. Enroll your Yorkie in puppy socialization classes or engage in controlled playdates with other friendly dogs to improve their social skills.
Positive Reinforcement Training: Utilize positive reinforcement techniques to reward good behavior and discourage biting. Whenever your Yorkie displays non-aggressive behavior, such as sitting calmly or following commands, offer praise, treats, or playtime as a form of positive reinforcement. This will reinforce positive behavior and create a strong bond between you and your dog.
Consistency and Boundaries: Establish clear boundaries and consistently enforce them to ensure your Yorkie understands what is acceptable behavior. Use commands like "no" or "stop" in a firm but calm tone whenever your Yorkie displays aggressive or biting behavior. Avoid physical punishment, as it can worsen fear or aggression.
Seek Professional Help: If your Yorkie's biting behavior persists or escalates despite your efforts, it may be beneficial to seek guidance from a professional dog trainer or behaviorist. They can provide tailored strategies and insights to address the specific underlying causes of your Yorkie's biting behavior.
Addressing biting behavior in Yorkies requires patience, consistency, and understanding. By identifying the reasons behind the biting and implementing appropriate strategies, such as socialization, positive reinforcement, and consistent boundaries, you can help your Yorkie overcome this issue.
Remember, if the behavior persists or you feel overwhelmed, seeking guidance from a professional can provide valuable assistance in resolving the problem. With time and proper training, your Yorkie can become a well-behaved and happy companion.