by Sandra
(Rowlett, TX)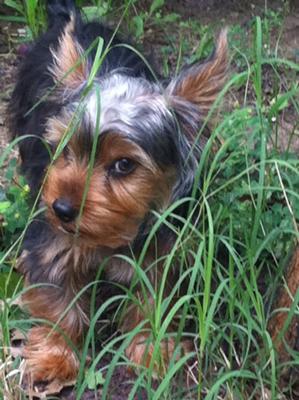 Grazin in the Grass
Gucci is my first dog. I knew I wanted a yorkie, but I did not do my homework on this breed. I have researched after the fact. I have learned so much about this breed, and I am in love. Gucci has brought me a new insight on life. I am recently divorced, and I live alone, and away from my family out of state.
I got Gucci at 3 months old, he was named by the breeder. I retained his name because he responded to it. It has been 3 months since, and Gucci and I have learned how to commnicate with each other.
I had to learn toleranace and forgiveness, something I guess was a deficit in other human relationships. I feel Gucci has been therapeutic for my post-divorce psych treatment. Gucci is quite willing to please me, but there are times when is not willing to negotiate.
My biggest thrill about having Gucci is his insane welcoming cheer when I come home.
My challenges are mid-nights, and early morning routines (I am not a morning person), and the high level activity requirements. Gucci is a Grass grazer, I can't keep him from eating it. He may graze for 15-20 minutes at a time.
The cutest thing Gucci has done was to bury his bacon strip into the fold of his bed, by taking his toys to cover it up, but he did not so well.
He looked at me, and I told him, "I can still see it". He barked at me, and I laughed out loud, he barked again, then nipped my toe.
The naughtiest thing Gucci has ever done was to eat my Iphone heavy duty cord, $30! He was mad becuase I was on the phone, and would not look at him. He had never bothered it before.
My biggest worry is if I am raising correctly, stress free, and promoting good behaviors. I read a lot ,but i am still insecure in these areas. Hopefully this will improve with time.
I love Gucci more then anything right now. He has given me a second chance at nuturing and loving something. My out-of town family members know how I feel, and they always ask about him, and want to hear new stories about him. Gucci loves taking picture, so I send lots of pic to them.
If anyone talks to me more than 5 minutes, they'll hear about Gucci, and probably see an upwards of 30 pictures of him from my Iphone.