by Patches Isula
(Cape Fair, MO)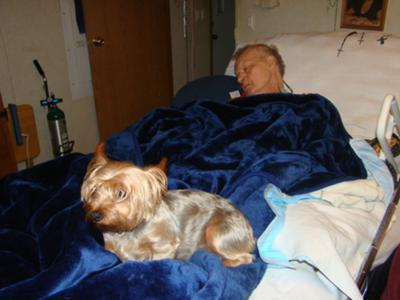 Dixy keeping watch on Sonny before he went to Heaven
Two years ago my husband Sonny got me Dixy Rebel for my birthday…Dixy has always been my dog and stays with me all the time.
Being a puppy mill Yorkie she did not like men and took so long to go to Sonny for a treat. When I was so deathly ill last year she stayed by my side until I got better…even brought her toys to my bed so I could have them if I wanted to play with her.
She still had problems with people but we kept working on them. Our Chihuahua has Epilepsy and Dixy lets us know when a seizure is coming on.
Our Bichon is partially paralyzed and Dixy will play with him softly.
All 3 are puppy mill rescues.
In May Sonny was diagnosed with stage 4 lung cancer and brain cancer. Dixy watched everything going on. In July he was put on Hospice. The nurses came every day and Dixy would bark uncontrollably at them and follow them barking…she did this with everyone.
Then one morning the nurse came and Dixy greeted her at the door with a tiny bark and ran to Sonny's hospital bed in our bedroom…up on our bed to watch what she was doing to Sonny and sat by his side in his bed.
After that she was wonderful..they could pat her, play with her and really amazed at the overnight change in her. Dixy started spending more time with Sonny even watching him sleep.
Aug 27, 2011 it was just Sonny, me and the 3 dogs home. I went to check on Sonny and he was having trouble breathing…I panicked, could not figure how to get the oxygen on him, calling my granddaughter so she and her boyfriend could come back and help me.
Our yorkie Dixy got on Sonny's bed and put her front paws on his chest…she would jump up and down on him but only her front paws..then she would lick his lips and start over with the jumping then the licking.
All this went on until people got there to put the oxygen on him. Family & friends came and when they would pick Dixy's head up to give her some love she was almost lifeless,her head would fall back down to Sonny's side.
Everyone commented on how devoted she was to him not to leave his side. She stayed with him, mostly on his bed,until Sonny took his last breathe at 8:47 am Aug 28,2011.
When they came to get Sonny a neighbor picked Dixy up and took her to the living room. She ran back to Sonny and went under the bed…were she stayed all day until my son took the bed out. He moved our bed back somewhat over where Sonny's bed was and that is where she slept for days.
She stopped eating her dog food, only a couple treats that Sonny would give her is all we got down her.
One day I found her on our bed with his shirt (not washed)wrapped around her. For almost she cried at night for him and had to have his shirt and the blankets he used.
7 weeks 2 days, from the time Sonny went to Heaven, she began to eat her dog food. She still cries some but it takes her awhile to get snuggled in one of his blankets before she goes to sleep.
Dixy has gone back to bulling everyone again and I am trying to find a trainer to help me but fiances now are not affording me to help Dixy live the life she so deserves..but I will keep trying.
The love Dixy showed for Sonny is called Forever Love by so many people.