Whether interested in buying a large breed or small breed such as a Yorkshire terrier, one of the first things a person should do is conduct research about puppy training 101.
With this, the degree of responsibility could be better understood and used to determine if being a pet owner is in fact the right decision.
There is nothing more adorable and fun then a soft, cuddly puppy. Unfortunately, many people adopt a puppy without fully understanding the responsibilities, which includes training.
Potential Behaviors
Learning about the different behaviors that most puppies present would be one of the first and most important steps prior to adopting. After all, most puppies are very much alike in the things they do right but also wrong. For instance, puppies chew, jump, dig, and potty inside. Of course, no one wants to deal with these issues but with research, an individual would discover there are viable methods for correcting bad or unwanted behaviors.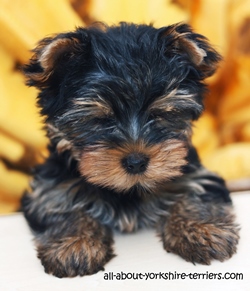 Remember, being the owner of a puppy is a huge responsibility. This involves spending time and money, but also putting in effort to correct inappropriate actions. When a puppy is properly trained, the animal offers unconditional love, hours of comic relief, and wonderful companionship. These are all reasons that millions of people invest in education and training.
Making Training a Success
Some of the specific things an individual should know about puppy training 101 to make sessions more successful and the process easier include the following:
Be Prepared – This means knowing that even the best and cutest puppy in the world is going to cause problems. This also means being ready to deal with the problems as they arise in an appropriate manner.
Proper Training – It would also be necessary to have all the appropriate training tools and supplies in place. For instance, a pet owner would need to have on hand potty training pads, a kennel or crate, doggie bed, collar, leash, and so on. There is a financial investment when first getting started but the investment is worthwhile.
Understand the Dog – Every puppy has a unique personality, as well as special needs. For instance, some dogs are anxious, some fearful, and some overly affectionate. Even if the personality presents in a positive way, a pet owner would need to learn how the dog responds to different situations. This would help a pet owner choose the types of training that would get the results wanted.
Love and Affection – One of the most important aspects of puppy training 101 has to do with giving an animal love and affection. Spending time cuddling a puppy is easy but when it comes to training, there has to be a balance. For instance, while an animal is being trained, things have to be business. A dog has to understand that training is a time to pay attention and be serious. Being able to show love and affection but also knowing when to set it aside for training is important.
Basic Obedience – Professional trainers and veterinarians agree that every puppy needs to be taken through basic obedience training. The commands are things a pet owner could teach but of course someone uncomfortable with training could always hire a professional for assistance.
Patience and Consistency – Two additional aspects of puppy training 101 is that whether taking a dog through basic training or teaching an animal to perform fancy tricks, the key to success is the owner being patient but also consistent.
Realistic Expectations – Some dogs are naturally smarter than others but no matter the breed, proper training methods can lead to the desired results. The goal is to set realistic expectations based on each particular dog. This would be based on ability, as well as interest in learning but again, we cannot stress the importance of all puppies being given basic obedience training.
Positive Reinforcement – The last piece of information we wanted to mention specific to puppy training 101 is that getting an animal to do what is wanted comes from positive reinforcement. Opposed to yelling or even punishment, an individual would need to offer praise and a special treat for good behavior. In addition, it would be beneficial to use a clicker as part of training, regardless of what the session entails.
Return from Puppy Training 101 to our Yorkie Training main page