by Karenza
(uk)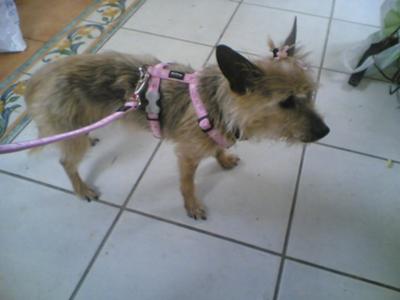 Ready for a walk
I rescued a little elderly female yorkie last month from the RSPCA.
She had been used only for breeding and had even recently given birth at 10 years old. she was in a bad way and was left tied somewhere apparently.
She was spayed by the RSPCA mid July and had mammary lumps removed and given Advocate. She has a heart murmur, deaf one ear, and cataracts forming. she is the most loving sad looking little dog i have ever seen and she has stolen my heart.
However she wolfs down her food and then every 5 days or so is doubled p in pain, lying on cold floors in feotal position, and eating grass etc.
Her poos are bloody and black at these episodes. I starve her for a dy or so then start again with bland foods. I have tried everything from fresh chicken and mince, to rice , eggs, Hills sensitivity, Royal Canin, Naturelite etc etc.
My daughter thinks she has an obstruction from the operation. Her tummy goes into a tight bend where they operated and the stitches are hard lumps.
She is licking and biting all the time on her abdomen and the skin there is red and with black patches.
I have spent a fortune at the vets (same one who did op). She had been on a drip for gastroenteritis, lots dif antibiotics and a special shampoo was 28.
I am demented about all fo this and exhausted.
Can anyone help who are yorkshire terrier experts? Many thanks