by Stevie
(Reno, NV)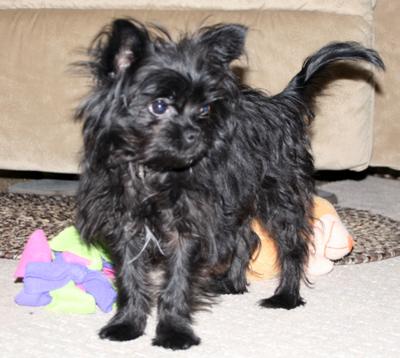 Rusty
Rusty became part of our family when he was 11 wks old.
His Mom is a purebred black Chihuahua and his Dad is a purebred Yorkie.
He weighed 2lbs. 4oz. Rusty was paper trained when we brought him home. I bought the "Little Rascal Litter Box" and uses that to go potty.
When Rusty was 17 wks. old I enrolled him in a "Toy Puppy Training Class". He was very timid at first but learned quickly to play with the other pups.
He learned how to socialize with other dogs and their humans. The class also taught me how to walk him on a "loose leash". We both look forward to our daily walks. The 6 week training class was very inspiring for both of us.
Rusty is now 7 months old and weighs 5lbs. 4 oz. He is my baby, my pride and joy and I love him very much.