by Amber
(Arkansas)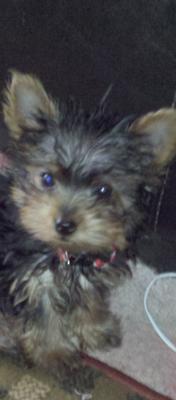 First of all I would like to say forgive me in advance for any grammatical or typographical errors you may find in my my message, its 3:33 a.m. and im a bit loopy and slightly out of it, which brings me to my problem.
I have a 4 month old Yorkshire terrier, named Gucci who is the Love of my life.
He is the first thing I tend to when I wake up, and come home from work, and the last thing I tend to before I go to sleep at night.
We go on walks, play fetch, and cuddle on the couch whenever the opportunity presents ltself (which is quite often).
When I go into a store, regardless of what I am there to buy I always find myself slipping off to the pet section for an extra toy or treat to surprise my little prince with.
In a nutshell I try to be a good mommy to my pet, which is why it pains me to proceed. I have owned Gucci since he was 9 weeks old and have been crate training him every since I bought him home.
I purchased him a very small crate, (he is only 3 lbs and about a foot lng) that he could only stand up in and turn around in.
I keep him on a very consistent feeding and watering schedule, and we go to the potty at all the obvious times (when he wakes up, after feeding, frequently throughout the day, and before going to bed.
He is normally pretty awesome @ going outside and im sure to give him plenty of praise when he goes outside (smiling, cheering, clapping, petting, and even throwing in an occassional treat)
However there are the times that he pees and poops in his crate that are driving me nuts.
I dont know why he does it as I present him with many opportunities to go outside, but there are still times that he feels the need to make a mess in his crate (at least 3 to 4 times a week) and im tired of it.
After cleaning poop and pee well between 30 or 40 times, im just at my wits end. I know to clean with vinegar to get the his scent out, but obviously that doesnt work.
I even get out of my bed in the wee hrs of the morning to take him out, which is why im up right now.
He whimpered a lottle bit around 2:30 to let me know he had to go, as he does every now and then, I took him out, watched him trot to "his spot", squat, you know, go through the normal routines.
We come in, he goes in his crate and within 5 minutes, poops and pees all over everything (small blanket and plush toy).
I was so frustrated, I yelled, forgive me, it was 2:30 a.m at that point.
I removed his toy and blanket and made him sit in it for a few minutes (15-20).
I finally broke down and from 2:45 am to 3:45 I proceeded to clean his crate, give him a bath, (did I mention its 3:00 am at this point) and get him situated so he could go bk to sleep.
This can't keep happening. I want a puppy who can walk around the house and be a part of my family, but Gucci seems to be regressing.
I love him, but I feel like im doing something wrong and am soooo OVER cleaning a poopy, pissy crate each day.
If there is any HELPFUL advice you can offer that could help me alleviate these problem I would really appreciate it.
Its obvious I really care for my baby otherwise I wouldnt be up at 4:00 am blogging about him, so please spare me the judgemental and ctitical comments that really wont do anything to help my situation.
Im simply looking for positive, encouraging advice top make me and my puppys life, better.
P.s.
1. He's been to the vet, no medical issues
2. He did not come from a negligent breeder, she kept them inside, 1 litter, plus mommy, and was in the process of paper traing, there was a seperate area for eating, sleeping and pooping.
Thanks for listening!