by Maryanne Yang
(Exton, PA)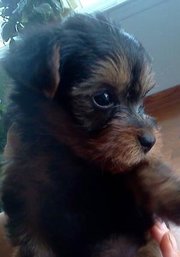 Harry
My family is getting a Yorkie puppy in late August.
We have already bought all the things needed: a dog bed, food, treats, a harness(we are going to use this when the dog is older), a brush, dog shampoo, feeders, and some toys.
We need some info on how to take care of him and what else we need.
Also when would be a good time to take him to the vet to get shots and wormed, etc. Harry (our dog) is currently 8 weeks old and we will be getting him when he is 10 weeks old.
-thanks, Maryanne Yang